Green Building is View Building
What enters your mind when hear the term "green building", or hear that someone has a Certified Green Home? What does it mean to build green? And why are we hearing more and more about it in the Virgin Islands?
When people ask me what my job is, I tell them I work for a nonprofit that promotes green building: the Island Green Building Association. So often I am surprised when people respond with a question such as, "Like houses with solar panels?" Or they might ask, "Isn't green building more expensive?" I always smile and hold back a laugh, because green building is so much more than solar panels, and can cost so much less!
Green building is a conscious effort to protect our environment, and everything that makes up our views. Most people agree that the beautiful view and environment of our Virgin Islands are the number one motivation when buying real estate to build an island home. When we visit an island home, the first thing we do is: go look at the view! Verdant hills and sugary beaches meeting multiple shades of turquoise (where coral reefs and seagrass meadows abound!) Green building is protection vs. taxation on our environment.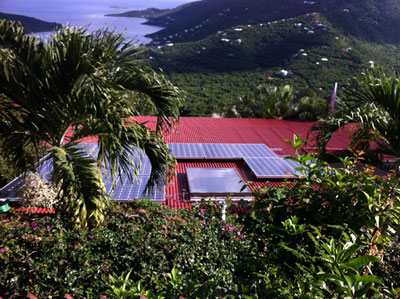 Solar panels AND a great view, both important to Green Building.
Green building protects the plants, trees, and wildlife that called these islands "home" long before we did. Building green means low-profile, low-impact homes vs. imposing, consumptive homes that damage the island and overuse earth's resources. It keeps our soils from washing down slopes, so we don't smother the colorful reefs. Renewable sun and wind power provides clear views through clean air unaffected by fossil fuels. We can afford to build green by using reclaimed and sustainable building materials. Wisdom has taught us that every action has a reaction and that there are connections between each alteration we make to the land during the processes of building and living day-to-day. These choices of green building vs. traditional building will continue to shape our lives and our island communities.
So it's clear that green building is about much more than solar panels, but what about the other common response: "Can I afford it?"
The answer is a resounding, "YES!" Green building can actually cost much LESS than traditional building when done with careful planning. Here are ways to save green while building green:
·
Even if a renewable energy system isn't immediately affordable, go green starting with energy efficiency in consumption and design. Passive strategies such as including longer overhangs, using trees for shade, orienting windows to the south to aid day lighting and including lots of windows to catch a breeze are cost effective options that are on the table for everyone.
·
Looking for land or a home? Use these key words when working with your realtor to select a property: gentle slopes, flat land, mature trees, native landscaping, Certified Green Home, southern exposure (to take advantage of the sun), rich soil, existing road or driveway, downhill build, easy access, energy efficient, reclaimed materials, and water conservation.
·
Planning to Build? Green design and construction practices can save tens of thousands in upfront costs, time, materials, and utilities, and long-term maintenance. The money saved by the right professional guidance will more than pay for itself. Carefully plan your home's footprint and orientation. Guidelines to help are available through the Department of Planning and Natural Resources (DPNR):

http://building-permits.dpnr.gov.vi/

. DPNR is now looking for energy efficiency measures when plans are submitted.
·
Consult an architect with experience in green building and site design. Find green building professionals with experience in the Virgin Islands on the Island Green Building Association (IGBA) website,

http://www.igbavi.org/

, or ask for credentials and references from other green building projects or organizations.
·
Homeowners and Realtors will appreciate research showing Certified Green Homes sell for more, stay on the market less time, and are healthier and more economical to live in. Consider a Tropical Green Home Certification from IGBA. A Checklist can be found at

http://www.igbavi.org/

.
·
Property managers and rental villa owners will enjoy lower costs and maintenance from renewable and energy efficient features, water conservation techniques, and the use of natural cleaning products. Guests feel good about staying in green homes too, which adds up to big savings and income.
·
Be sure the timing is right to build – do you have funding ready for your entire project, including paving the driveway? Don't let your money wash away with your soil. Make sure you only start excavating your driveway and home site if you can continue the project and stabilize the bare soil.
Remember, View Building means maintaining the views of our turquoise waters, made possible by our coral reefs and seagrass meadows. The decisions you make when purchasing or building your island home can help you, your family, and your community continue to enjoy the beauty of our Virgin Islands for years to come. Research, learn, talk with others, and enjoy the journey of creating a special place that is healthy for you and what it connects to.
Look for upcoming green building workshops throughout the Territory as part of NOAA Coral Reef Conservation Program efforts through NOAA Fisheries' Caribbean Field Office. As an important partner in the Green Building effort, you can visit the IGBA website to stay informed: