Your Island Home: Designing the Dream
By Karen Vahling, Island Green Building Association
Do you own a "piece of the rock", or some land in paradise? Whether you are an architect yourself or plan to hire one, designing a new home in the Virgin Islands can be a dream come true.
Green building is the key to preserving the health and beauty of our island, but also to saving money.
Build Green, Save Green
It's true: island building is very expensive, often triple the cost of stateside projects. Fortunately, green building can save big money. When designing a home, pay attention to:
1)
Minimizing
the area a heavy equipment operator clears.
Track hoe rates can add up quickly

Design a short driveway and low-footprint home

Less disturbance means less to maintain
2)
Maximizing energy efficiency and use of renewable energy.
Plan passive cooling features to save air conditioning costs.

Conserve energy for lighting using solar and L.E.D. bulbs and fixtures

Use solar and renewable energy systems that pay for themselves within a few years of operation
3)
Buying recycled/reusable materials.
Build Green, Keep Waters Clean
Keep the following guidelines for erosion prevention and sediment control in mind when designing a home to reduce sediment transport offsite and down to our crystalline waters and coral reefs and seagrass beds:
1)
Minimize disturbance of existing vegetation
2)
Phase construction and schedule to work during dry weather
3)
Protect, retain and replant exposed soil immediately
4)
Avoid concentrating water flow; if necessary, slow it down and spread it out
5)
Encourage water infiltration in your design plan
6)
Regularly inspect and maintain erosion and sediment controls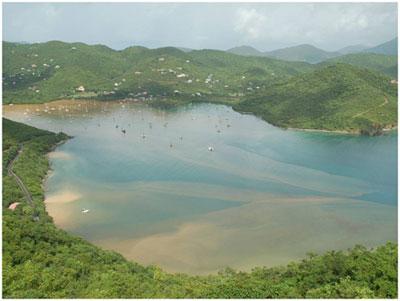 Steep slopes, tropical rains and poor construction can harm our coral reefs, and views.
Green Landscapes
Match the landscaping to the features of the property.
Get a careful assessment of valuable native plants and trees before you cut!

Create a plan that minimizes disruption to natural features and vegetation.

Emphasize the use of native plants that work in harmony with the house.
Before you hire an architect or beginning designing a home, familiarize yourself with guidelines from the Department of Planning and Natural Resources (DPNR):

http://building-permits.dpnr.gov.vi/

and information sources such as the Island Green Building Association:

http://www.igbavi.org/

. Doing so can save precious time and money as the adventure of building your island dream home begins.
Look for upcoming green building workshops throughout the Territory as part of NOAA Coral Reef Conservation Program efforts through NOAA Fisheries' Caribbean Field Office. As an important partner in the Green Building effort, you can visit the IGBA website to stay informed: