Attention Heavy Equipment Operators: You Have a Job to Do

by Karen Vahling, Island Green Building Association

Whether you are a property owner, contractor, construction worker, or heavy equipment operator, the way you build in the Virgin Islands affects everyone and everything that calls these islands home. Heavy equipment operators and contractors play a vital role not only in constructing buildings, but also in protecting the environment and preserving the natural beauty of our islands.

Your work is your signature: a symbol of your craftsmanship that will last beyond the scope of the job. On our islands, going green is more than just a fad – it's a necessity in order to safeguard what we value most. And working green is about doing more with less and preserving the very amenities people seek.
Every single move you make on a site is felt throughout the island. Soil loss carries off important nutrients and the base needed for native vegetation to re-grow or landscaping to take hold. Lost soils end up in our waters, hurting fish, coral, and other marine life. Poor construction practices, like improper or missing sediment and erosion control and stormwater control measures can also destroy the scenic beauty of the area, affecting property values. Poor construction practices lead to erosion, slope failures, and increased runoff that then cause decreased downstream and nearshore water quality, flooding problems, habitat loss for native plants and animals, and high utility and maintenance costs.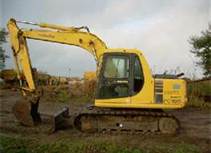 Heavy equipment like this leaves your signature on our island.
Implementing practices that prevent erosion and control sediment and runoff transport offsite can be achieved with simple steps taken before, during, and after site grading.
No single approach will be successful. Rather, a combination of best management practices (BMPs) including erosion control blankets, mulching, seeding, compost, silt fences, wattles, interceptor dikes, swales, pipe slope drains, surface roughening, slope tracking, and gradient terraces are required based on the characteristics of your site. Proper maintenance of these BMPs is important to keep them working! It is also important to leave native vegetation and soils in place in as much of the site as possible to act as natural BMPs. The Department of Planning and Natural Resources can provide information on the permitted clearing area for different project types.
While change is inevitable, loss of our environmental and cultural resources shouldn't be. When planned and completed responsibly, development provides a sustainable economic base for the Virgin Islands without sacrificing our unique natural diversity, ecological health, sense of community, and quality of life.
Look for upcoming green building workshops throughout the Territory as part of NOAA Coral Reef Conservation Program efforts through NOAA Fisheries' Caribbean Field Office. As an important partner in the Green Building effort, you can visit the IGBA website to stay informed: