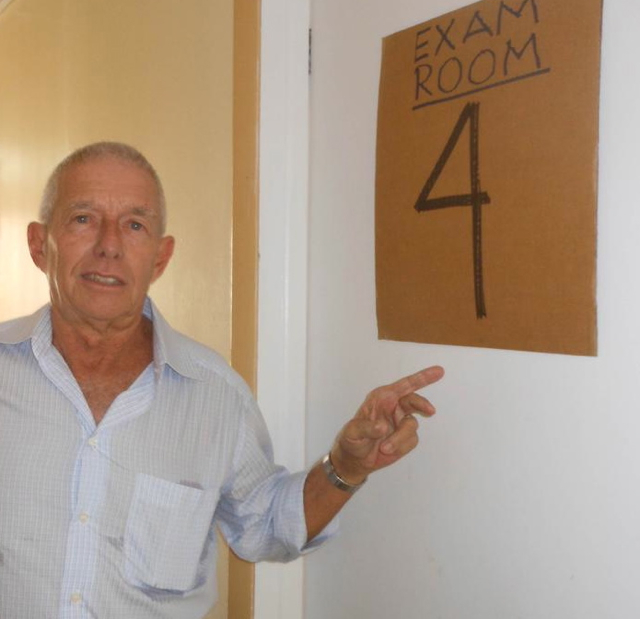 A small and dedicated volunteer army assembled at Bethlehem House Saturday morning in a clinic – the first of its kind in the territory – to make a difference in the lives of others who live under less fortunate circumstances.
The Health Care for the Homeless project took a village to set in motion.
The pilot program is the initiative of first lady Cecile de Jongh in collaboration with Dr. George Rosenberg, Michael Akin, executive director of Catholic Charities of the V.I., and members of the medical community.
The yard at Bethlehem House was a scene of organized activity Saturday. Hand-lettered cardboard signs designated areas, making it easy for clients to see where to head. A welcoming blue and white sided building bore the designation registration. "2 – Vital Signs" hung over a table staffed with nurses and aides. To the side of the room was a couch where, somewhat incongruously, a stuffed bear lounged amid folks waiting to be seen.
In an adjacent building was "3 – Flu Shots," and down a hallway, "4 – Exam Room."
The building was remodeled this year from former storage rooms into the well-equipped and brightly painted medical areas by members of My Brothers Workshop. Supplies for the reconstruction were donated by MSI Building Supplies and The Sea Chest.
"In the past year five of our trainees were homeless, and now through a combined effort their lives are back on track and they are no longer homeless," said Scott Bradley, founder of MBW, a vocational mentoring program for at-risk young men. "We are honored to help in this project."
Bradley's dedication mirrors that of the other community volunteers.
The first lady is an active supporter of health and wellness in the territory, and the idea for a clinic to help the homeless was a natural. Her initiatives include Healthy VI projects, Camp Shriver, Special Olympics and Holiday programs for children. A note about this last entry; no calorie-laden sweets, just healthy snacks.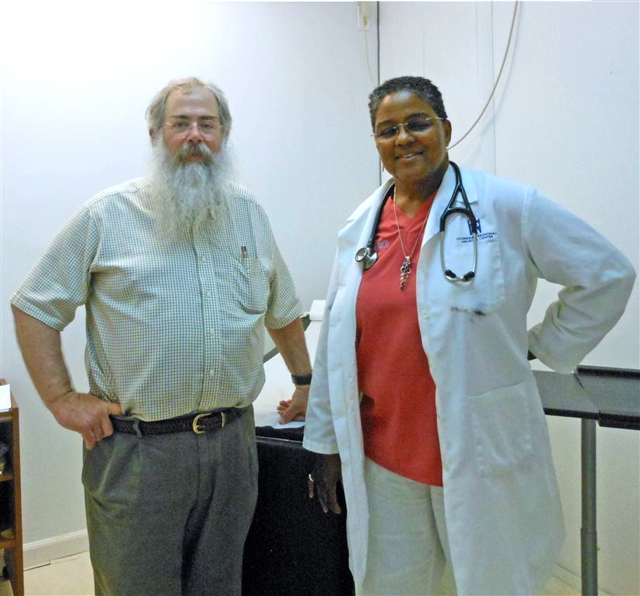 "We had a meeting with Dr. Rosenberg, Michael Akin and Chris Finch, (Human Services commissioner) to talk about what to do," deJongh said in a phone conversation Saturday. "We knew there was nothing like this in the territory, and everybody got involved."
Meantime, there was lots of work, lots of organizing, a lot of labor.
"We agreed to do this once a month, six or seven hours on a Saturday," deJongh said. "We knew our ideas were not going to be perfect, but we could get close and find out and learn. I said 'Let's just do it.'"
And they did. Saturday was agreed by all to have been a success.
While conducting a tour of the facilities Saturday, Akin listed some of the many contributors: Dr. James Clayton of Red Hook Family Medical Group donated electric medical records software and printers; the Department of Health donated personnel and flu vaccine; the Department of Personnel provided medical supplies through a $2,500 grant from Cigna Insurance.
The Bethlehem House courtyard became more populated as the morning wore on, under the watchful eye of longtime shelter manager Richard Gomez, who graduated from the streets of St. Thomas himself. Gomez knows his community. While delivering food on his outreach program Saturday, on each trip, he managed to bring back some of the recipients for a checkup.
Akin said more clients would come from the shelter's regular Saturday lunch sponsored by Rotary Club of St. Thomas II.
Everyone got into the act, even relatives.
"Dr. Rosenberg's wife did the weigh-in's and Dr. Ellett's mother helped with registration," nurse Jill Anderson said. Anderson, who has worked with the prison population, said it was rewarding to see so many people being helped.
"They are not all homeless," she said. "It's just so hard today. Once you fall, it's just so hard to get back up. Lots of people simply can't afford their medications."
One client was ecstatic about the program, which he initially had shied away from. Speaking later, he said, "I really didn't want to go, but the care was phenomenal, the best I've ever received. Those doctors really took their time, They cared."
Emergency room doctor Robin Ellett, spoke for a minute in between patients, likely expressing the opinion of all there Saturday.
"This serves a hole these folks can fall through," Ellett said. "It's so important to treat conditions now, when we can catch them early. If you can do that, you can help the patient and avoid serious future medical costs."
Surgeon Frank Odlum spoke of the medical community's commitment Saturday.
"I called a meeting at the hospital," Odlum said, "and everyone was behind the idea, 100 percent volunteers."
Odlum, Dr. Luis Amaro, Rosenberg and Ellett comprised Saturday's volunteers. Rosenberg said the medical staff will be staggered as needed in the future.
Speaking later in the day, Rosenberg said the volunteers had treated 23 or 25 patients. Asked about the day's outcome, he said, "I really haven't had time to assimilate the experience, no time for introspection now, dealing with our first day. We had lots of broken bones, old injuries that hadn't healed properly, dehydration, psychiatric issues. We have lots of resources in the community, and we will be bringing in more specialists, dental, orthopedic. Everyone is anxious to help."
Akin said the clinic will continue on the second Saturday of the month and is looking to expand to other areas of the island and to St. Croix and St. John.