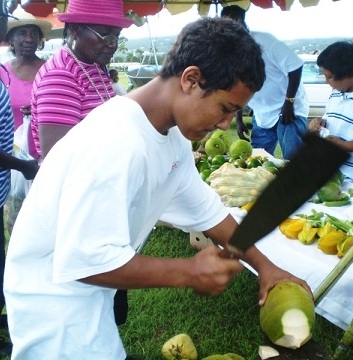 Feeding the world and feeding the U.S. Virgin Islands will be the focus this week, with a "Hunger Banquet" on Wednesday and more of a feast and food fair Sunday, as the University of the Virgin Islands works to raise awareness before World Food Day on Oct. 16.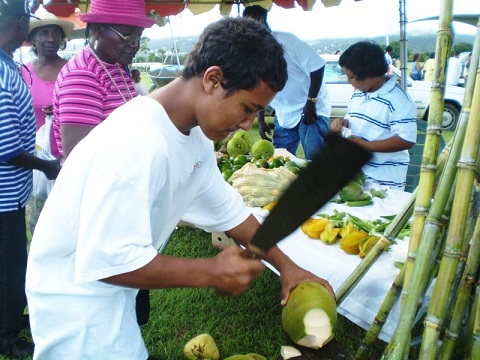 For the past 25 years, the UVI Cooperative Extension Service has spearheaded educational activities leading up to and during World Food Day. The overall goal is to promote the local production of food while increasing awareness of the importance of the issue of hunger in the world.
Wednesday at 9:30 a.m., delegations of five youths in grades fourth-12th and an adult chaperone from any school, club, church or educational organization, will meet at UVI's Great Hall for the educational Hunger Banquet, according to the Extension Service.
The Hunger Banquet will serve as a kind of live demonstration to immerse both youth and adult participants in a real-life simulation of the issues and challenges surrounding hunger and poverty.
Participants will be randomly assigned to a socioeconomic class based on current world demographics.
The "wealthy" will enjoy a full meal in a fine-dining setting. The "middle class" group will be served a meager buffet-type meal. And the "lowest income" group – representing over half the world's population – will have to be satisfied with a small scoop of rice and some water, if they are lucky.
Banquet participants will have the opportunity afterwards to share their comments and responses to the experience with the hope that they will better understand what they, as individuals, can do to alleviate hunger, especially at home in the Virgin Islands.
Each participant will be challenged to make a personal pledge to make a difference.
But the week will not be all spinach and no dessert.
On Sunday the campus will play host to a World Food Day celebration from noon until 6 p.m. For the culinary-minded, there will be a "Youth Super Chef" competition and a "Banana Splash" competition for the public.
For the hungry, there will be a food vendors court with all manner of hot dishes with fresh local ingredients and a farmers market to take home your own fresh local fruits and vegetables.
The day will include tours of UVI's Agricultural Experiment field facilities, a petting zoo, music by Rising Stars Youth Steel Orchestra and DJ Porter, and performances by the St. Croix Martial Arts and the Ay Ay Cultural Dance Company.
Participants attending the workshops will get free samples of dishes featuring local crops, and free vegetable seedlings will be distributed.
There is no cash entrance fee – just bring a nonperishable food item for the food drive. Donations will be given to the local food banks.
World Food Day is sponsored by UVI Cooperative Extension Service, V.I. Department of Agriculture, UVI's Agricultural Experiment Station, Home Depot and Plaza Extra. For more information, call Clarice Clarke at 692-4060.