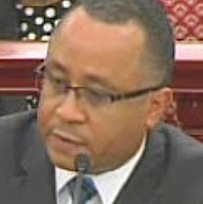 Senators continued to spar with Government House over whether the St. John Capital Improvement Fund is tapped out but reached no conclusions Monday.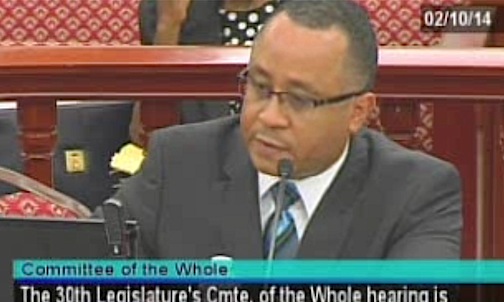 The Committee of the Whole met on Friday to look at the progress of St. Thomas and St. John capital projects and to see, in this time of budget crisis, if whatever unspent capital funding could be legislatively reallocated to faster spur construction spending. (See related links below)
A lingering dispute over how much money the government really has in various funds continued Monday, with Sen. Craig Barshinger pressing officials for documentation that the St. John Capital Improvement Fund is over appropriated.
The issue has come to a head over some appropriations vetoed by Gov. John deJongh Jr. In particular, in November 2013 the Legislature passed an omnibus bill which, among many things, appropriated $1 million from the St. John Capital Improvement Fund to buy a specific plot of land on St. John for the V.I. Waste Management Authority to use for a convenience center. [Act 7574]
DeJongh vetoed the measure, saying the fund is over-appropriated, hence the money does not exist. In January, Barshinger moved for the override, saying "our research says conclusively" that there have been no appropriations since a past report indicated there was $5 million in the account, and so the money must be there and can be appropriated.
At that January session, Sen. Nereida "Nellie" Rivera-O'Reilly asked V.I. Legislature Post Auditor Jose George to explain the research and its conclusion. George said the Legislature's information suggested a balance of $5 million at the end of September 2013. Since then, the governor's financial team had sent the Legislature "an adjustment, stating there were $9 million in encumbrances" on that fund.
George did not say the money was actually available but that more research was needed.
The post audit position is needed to verify the validity of the encumbrances, George said. "In order to establish whether the fund is over appropriated, that has to be researched."
The Legislature then voted to override deJongh's veto to appropriate the potentially nonexistent funds again.
On Monday, Barshinger asked several testifiers about the fund.
"We've been tracking the fund since 2004," he said, and had understood the fund to have $5 million, of which $1 million was encumbered. "It seems to me someone is taking on the role of the Legislature," Barshinger said.
Property and Procurement Commissioner Lynn Millin-Maduro testified that the fund "did not have sufficient money at the close of the 2011, 2012 and 2013 fiscal years." She said the Office of Management and Budget informed them the money was not available.
Barshinger said the Legislature received correspondence in November from the Office of Management and Budget saying the fund had a negative balance and $9.3 million in encumbrances. He said he wrote OMB Director Debra Gottlieb and initially got no response.
"I called this morning and there was nothing yet. She informed me she was waiting responses from the commissioner of Finance," Barshinger said, asking Finance Commissioner Angel Dawson to comment.
Dawson said, "We did receive that request and that information is being compiled to be presented to OMB so it can be presented to the Legislature."
Barshinger replied, "Well that is something anyway. I'll have to follow up on that."
Dawson, Millin-Maduro, Public Works Commissioner Daryl Smalls and Education Commissioner Donna Frett-Gregory gave updates on the status of various road, school and other capital improvement projects. Some await additional funding, some are about to start or are ongoing, and a few are nearing completion. In particular, work on the Rothschild Francis Square Enhancement project should be complete by April, now that archeological work is over.
New lights are going in, "soon they will be planting and landscaping, and it will be open shortly," Smalls said.
Senate President Shawn-Michael Malone went over the totals remaining on a number of bond-funded capital projects.
"We would like to see what we can reprogram within the covenants of the bonds," he said. Some capital projects, like energy projects at the schools and hospitals, might be faster, more effective uses of the funds, he said. "The governor has agreed to work with us on capital projects," Malone said, so he will put together a list of reallocations to discuss with Government House, that should be codified in Legislation before May, he said.
No votes were taken at the information gathering hearing. All senators were present.