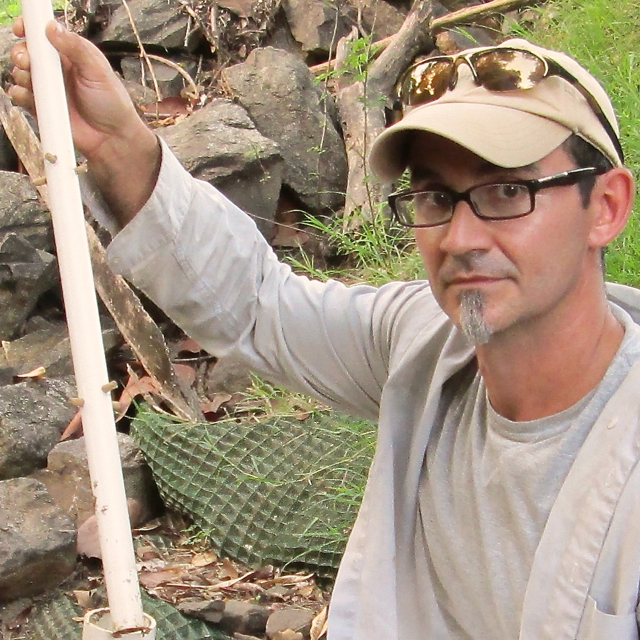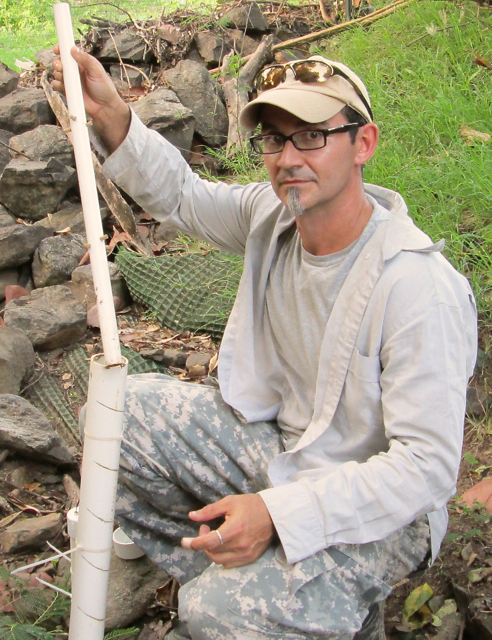 Carlos Ramos spent the summer scrambling up and down Coral Bay area guts to keep tabs on simple devices he put in place to measure storm water runoff.
"It's a PVC tube with rebar inside another tube. It's very cheap to do," he said, launching into an explanation of how the device works.
The outer tube has some powdered cork at the bottom. When it rains and the gut fills, the powdered cork floats. It sticks to the inner tube, allowing Ramos to know the height of the water.
It allows him to evaluate the conditions that lead to runoff into Coral Bay.
Ramos, 44, and his assistants, University of Texas recent doctoral graduate Matt LaFevor and St. John resident Matt Rasmussen, and Ramos's previous assistant, Bruce Damon, have 70 such devices scattered around guts that range from St. Quaco and Zimmerman to those along Route 107 to the guts on the Johnny Horn Trail. The list also includes the gut that runs behind the former Donkey Diner building.
That particular gut flows past the Fire Station down to almost the water's edge, where another device sits.
He's also installed other automatic ones at some of the guts in his study.
Ramos, now an assistant professor of geography and Latin American Studies at the University of Texas, wrote his doctorate dissertation on the results of studies he made in Fish Bay.
From that, he learned that 85 percent of the material that winds up in the bay comes from the island's roads.
"It's a thousand times higher than a natural surface," he said.
He said the number of roads, the steep slopes and really hard rains contribute to that problem.
This study, funded by the National Oceanic and Atmospheric Administration's coral reef restoration program, will also provide information about mitigation efforts made by the Coral Bay Community Council. In recent years, the organization installed swales, sediment ponds and rain gardens, which are set up towards the sea side of a gut. The one behind the fire stations includes piled rocks and a special cloth to cut down on the sediment going into the bay.
He's worked in the Coral Bay area since 2009, and set up the monitors in the summer of 2013. When the project wraps up in December, Ramos expects to generate preliminary data. Down the road, he'll enlist the help of students to come up with an in-depth analysis that can be put to use across the Caribbean.
Ramos is no stranger to the Caribbean. Born in the San Juan area, he received a bachelor's degree in geology from the University of Puerto Rico at Mayaguez. He holds a doctorate from the watershed sciences program at Colorado State University. He worked on many projects in the Virgin Islands and Puerto Rico as well as other locations, and he's published in many journals.
He's a big fan of St. John. He said that when he was on St. John to work on his doctorate, he lived a very monastic life.
"I got to spend more time with rocks, dirt, water, guts and trees than with people back then. I saw the whole landscape react to rain by myself, oftentimes in the middle of the night, and I fell in love with that and that still endures," he said.
He said that with this project, he gets to spend a bit more time with St. John's people, including those who have lived here for a long time, those that come and those that have already left.
"My time here is always adventurous. New, yet still familiar things to see, and people to meet," he said.
He also said he gets a lot of support from the St. John community, including the Community Council and Concordia Eco-Resort, which hosted him during his summer stay.
Spare time is in short supply, but he and his wife of 12 years, Jossianna Arroyo, who teaches in the Spanish and Portuguese Department at the University of Texas at Austin, like to spend time with their daughter, Leilah, 10.
As for other activities?
"Read stuff unrelated to science, go to the movies, have a beer or two, watch my little girl dance, cook, photography, writing poetry … I used to play lots of volleyball but not anymore," he said.