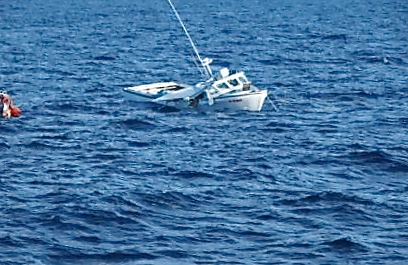 A U.S. Coast Guard cutter collided with a fishing boat from the U.S. Virgin Islands Tuesday morning, sinking the fishing boat, the Coast Guard announced.
The fishermen, Winston Ledee, 57, and Kenneth Turbe, 30, both of St. Thomas, were rescued, one from the sinking boat and the other from the water, according to Ricardo Castrodad of the Coast Guard Public Affairs office.
The cutter Key Largo, a 110-foot island-class patrol boat, and Sea Shepherd, a 42-foot fiberglass-hulled commercial fishing vessel, collided at 6:38 a.m. about nine nautical miles east northeast of Vieques, Puerto Rico, Key Largo's home port in San Juan.
Following the collision, Sea Sheppard sank at a depth of more than 100 feet.
No one was injured in the incident and the two fishermen rescued by the Coast Guard were returned to Charlotte Amalie, where they were received by their families, Castrodad said.
Castrodad said Key Largo received some damage from the accident, but was not endangered. He was not able to provide details of the incident, saying it is under investigation.
No pollution was reported following the sinking.