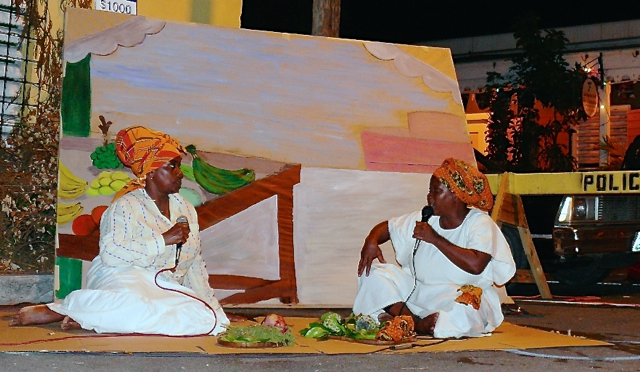 Cool evening breezed greeted the 50 or 60 men, women and children gathered in Frederiksted Wednesday celebrating the 136th anniversary of the 1878 Fireburn labor revolt, an event which marked the beginning of the end of near serf-like legal status for black workers on St. Croix.
Ras Lumumba of St. Croix blew calls on the conch shell around 5 p.m., Then the crowd slowly gathered after dusk inside and around the United Caribbean Association, adjacent to Buddhoe Park and Fort Frederik. UCA has been commemorating the day for the past 41 years.
Fireburn brings out talk of politics, revolution and the state of St. Croix. After the blowing of the conch and before the ceremonies, there was a vigorous discussion among those in the audience, many of whom have been coming to the celebration for years.
"We need more freedom," said a man who asked to be called Don Juan.
"We need a new system. We need a new legislature and new leadership in the Virgin Islands," said a Frederiksted man going by "Stamma."
Lumumba joined in a discussion of how many young men fall by the wayside and get into trouble that haunts them for the rest of their lives. "You have to humble yourself to teach," he said.
"We blame the children, like they came from Mars. But we are right here. They came from us," Lumumba said.
Kemit Sweeney, Sister Liz and Prophet Julian each read several selections of original poetry about the day. Then UCA members Wala, Asheba and others performed an original play by Richard Schrader Sr., entitled "1878: Queen Mary and Dem." The drama presents the events leading up to the Fireburn from the perspective of the several "queens" who are credited with instigating and organizing the uprising. Schrader was in the audience, with a table of his books and plays for sale, as they performed his play, which is firmly entrenched as a Fireburn tradition in Frederiksted.
A half dozen young children, a few teenagers and a couple of dozen adults sat in a semicircle of chairs in the UCA parking lot, listening raptly to the poetry, play and other original spoken performances recalling the struggles of their St. Croix forefathers.
Afterwards, the crowd marched to the beating of drums through the streets of Frederiksted with torches in hand in a peaceful reenactment of those fateful events of 1878.
"We carry the torches as a symbol of freedom," remembering the torches carried by the men and women during the Fireburn, said St. Croix resident Marie Connor.
Enslaved Africans in the Virgin Islands were nominally emancipated three decades previously in 1848, in response to a successful slave revolt led by Crucian molasses cooker Moses "General Buddhoe" Gottlieb.
Every year after 1848 employers promised better wages and working conditions but never delivered. Although technically no longer enslaved, workers' movements were highly restricted and in some respects working conditions were actually worse than before. In slave times, slaves were regularly punished by the cutting off of a foot or slicing off of a tongue, and work days were often 12 to 16 hours. But even after Emancipation, the working populace was heavily controlled and restricted and workers could not even leave their neighborhoods and go to Christiansted without a pass. Black workers could only leave the plantation once a year, on Oct. 1 – referred to as Contract Day, to enter into a new contract at a new plantation. The only exceptions to the restrictive labor laws, the only places blacks could live if they were not working on a plantation were areas called Free Gut in both Frederiksted and Christiansted, where some tradesmen and others eked out a living and a handful owned small shops.
Tensions and frustrations rose over the decades after Emancipation and on Contract Day in 1878 four women on St. Croix, traditionally called queens, organized a revolt to demand all plantations pay the same or better than the St. Croix Central Factory and to repeal the Labor Act of 1849 that kept workers in serf-like conditions. These Virgin Islands heroines were: Queen Mary Thomas, Queen Mathilde Macbean, Susanna "Bottom Belly" Abrahamson and Axeline "Queen Agnes" Salomon.
For five days, much of the west end of the island burned. More than 120 black workers and 20 or more planters were killed before soldiers came in and crushed the revolt. Hundreds were arrested and ultimately the queens, who were regarded as the ringleaders, were sent off to prison in Denmark. Some were summarily executed. But the tide could not be held back. The labor acts were repealed and wages and conditions improved a little, setting the stage for later V.I. labor heroes like D. Hamilton Jackson a few decades later.