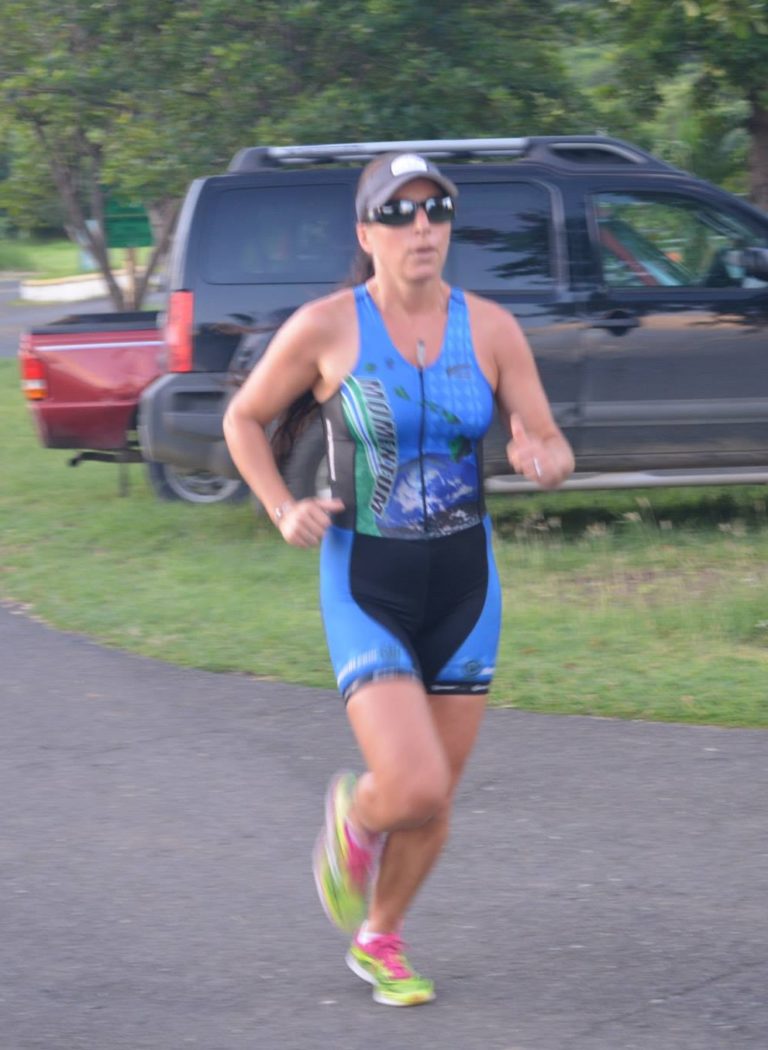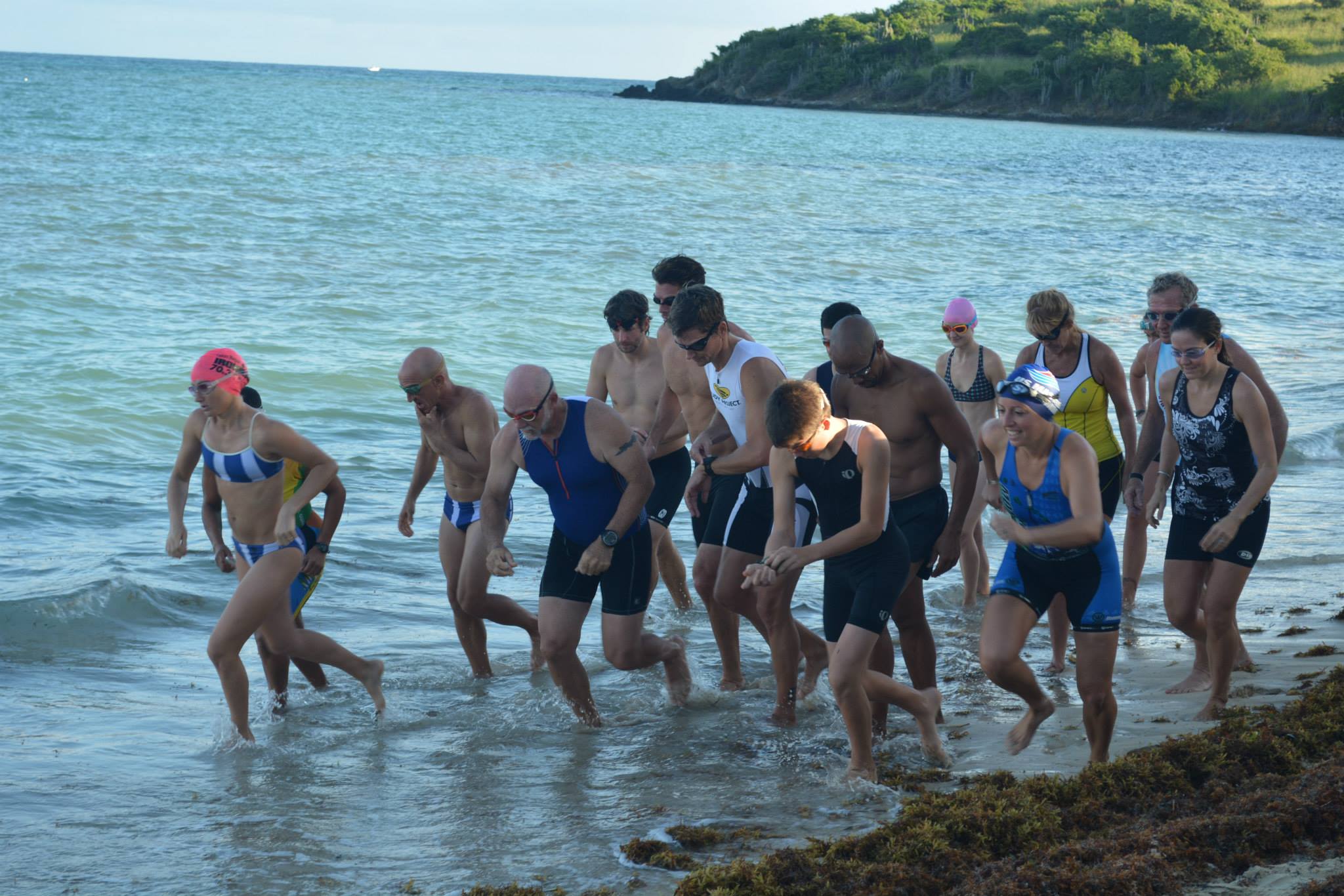 Although the mileage of the race doesn't amount to much, the Triple Mini Triathlon is one of the most compelling races that exist. After athletes have gone through the motions of a standard triathlon, they head back to the water to do it all again, then again. The Virgin Islands Triathlon Federation (VITF), host of the race, also offered a division where athletes would compete in the Beast of the East 5K at 6:30 a.m. followed by the Triple Mini Triathlon at 7:30 a.m. Eleven triathletes received special recognition for finishing the Fit for 4 Race.
Visitor Benjamin Lewis led the field of runners in the 5K, which went from Cramer's Park to Point Udall and back, and finished in 21:40. St. Croix's leading female runner, Bridget Klein, was close behind in second place with a time of 21:45. Jay Gleason was next to finish; Troy Holloway was the third male to cross the line. Esther Ellis and Julie Sommer rounded out the podium for the women's division. Mason Lambert, a third grader at Good Hope Country Day School (GHCDS), was the youngest competitor (along with his twin sister) and finished in 9th place overall in a time of 23:55.
Just minutes after the final runner crossed the line, most athletes headed to the beach for the start of the Triple Mini Triathlon. Athletes were given the opportunity during the race to either add a lap or withdraw from the race, depending on their endurance. The 200-meter, point-to-point swim was followed by a 5K-bike ride, which took place on the same Beast of the East course. The final leg was a .5-mile run within Cramer's Park. The gap yo-yoed between the two leading men, Troy Holloway and Jay Gleason, for most of the three rounds of the race, which highlighted each of their strengths in the sport. Troy took advantage of the mostly grassy course and ran without shoes, making his transition times lickety-split. His wisdom paid off as he crossed the finish line nearly 30 seconds ahead of Jay. Scott Fricks, president of the VITF, was third.
The women's field included St. Croix's top three triathletes: Esther Ellis, Julie Sommer and Bridget Klein. Klein led the race on the first swim, but then she suffered a snag with her gears, allowing Ellis and Sommer to gain time on Bridget and to pass her early on the first lap. Klein hurdled a second obstacle on the second lap when her cycling shoe broke, causing her to return to the transition area to change into her running shoes. Although Sommer was closing the gap with Ellis, it was not soon enough, and she had to settle for second place. Klein was third.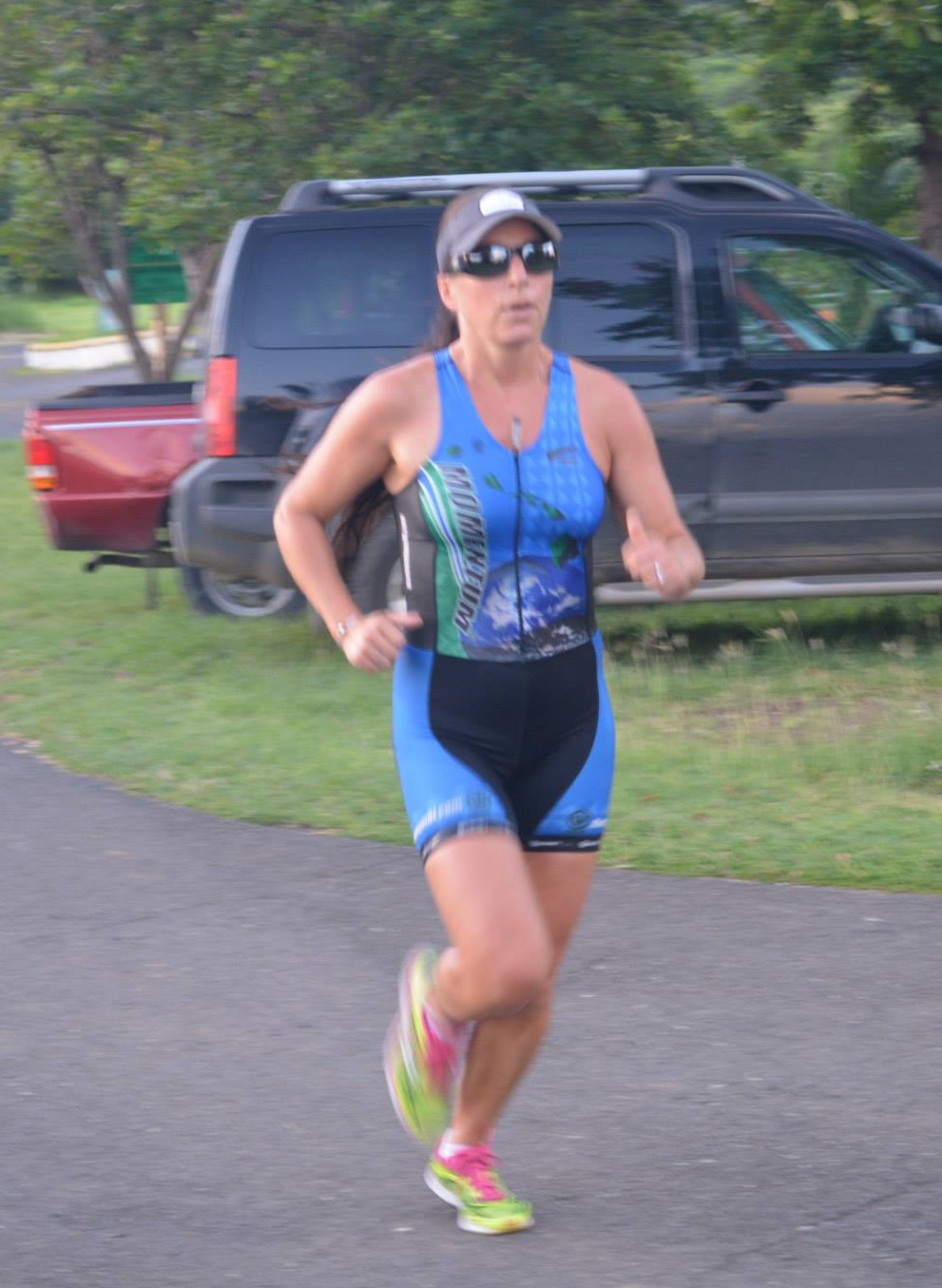 The VITF put on a holiday spread at the conclusion of the event and selected the winners of the annual raffle prizes. Congratulations to Katherine Pugliese and Esther Ellis for winning a gift certificate to IHOP, to Corrine Farinola for winning a Camelback palm-held water bottle and to Brett Ellis for the top prize of a V.I. cycling jersey.
Next Sunday will be the St. Croix Marathon, the Half Marathon and the Four Miler. (http://virginislandspace.org).
Please note that the date of the VI Duathlon has been changed to Sunday, Feb. 22, 2015; the date of the Triple has been changed to April 12; the Junior Tri VI Splash 'n Dash has been moved to April 19.
Results of the Beast of the East 5K and Triple Mini Triathlon, Sunday, December 7, 2014 at Cramer's Park, St. Croix
Fit For 4 Challenge
Troy Holloway 1:25:57
Jay Gleason 1:26:19
Esther Ellis 1:32:09
Benjamin Lewis 1:33:17
Bridget Klein 1:33:19
Scott Fricks 1:33:23
Julie Sommer 1:33:50
Mike Klein 1:34:39
Randy Nielsen 1:54:45
Laverne Fredericksen 2:12:28
Roberto Blewett 2:46:43
Triple Mini Triathlon
Troy Holloway 1:03:22
Jay Gleason 1:03:51
Scott Fricks 1:07:40
Esther Ellis 1:08:44
Drew Wall 1:09:22
Julie Sommer 1:09:58
Mike Klein 1:11:27
Bridget Klein 1:11:34
Benjamin Lewis 1:11:37
Dom Pugliese 1:12:37
Carol Fricks 1:27:23
Randy Nielsen 1:31:55
Laverne Fredericksen 1:39:58
Roberto Blewett 2:08:26
Beast of the East 5K
Benjamin Lewis 0:21:40
Bridget Klein 0:21:45
Jay Gleason 0:22:28
Troy Holloway 0:22:35
Randy Nielsen 0:22:50
Mike Klein 0:23:12
Esther Ellis 0:23:25
Julie Sommer 0:23:52
Mason Lambert 0:23:55
Patrick Cox 0:24:45
Scott Fricks 0:25:43
Kevin Miner 0:26:01
Jennifer Sturm 0:26:03
Fauger Baptista 0:28:43
Jacki Crandall 0:31:11
Chris Haug 0:31:24
Laverne Fredericksen 0:32:30
Kirra Lambert 0:32:36
Megan Lambert 0:32:36
John Harper 0:33:08
Eddie Nolan 0:33:31
Roslyn Turner 0:34:50
Tamarah Lezama 0:36:35
Roberto Blewett 0:38:17
Wendy Solomon 0:42:11
Mini Triathlon
Eddie Nolan – 2 laps 0:49:47
Patrick Cox – 2 laps 0:50:09
Amber Stevens – 2 laps 1:22:41
Rachel Hoon – 1 lap 0:31:56