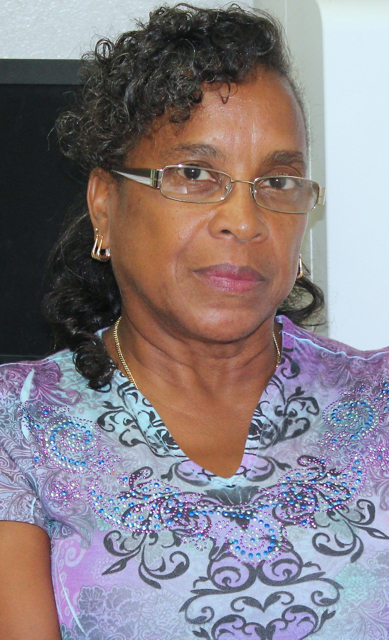 Air Force veteran Cenita Heywood has a passion for helping local students become pilots and fly off into the "wild blue yonder."
Heywood, a teacher and audio/visual media specialist at St. Croix Career and Technical Educational Center, is getting students involved in aviation classes and clubs.
Heywood says there are a lot of great careers in aviation. With her help the students are earning scholarships, getting college credits and getting into good aeronautical universities.
"My heart is in it to do things for kids," Heywood said.
Heywood collaborated with the Department of Education in getting the Aviation Academy at CTEC off the ground this school year.
The students enrolled in the academy earn 12 to 21 hours of college credit that can be used toward aviation science and engineering. The students will take the Federal Aviation Administration entry level aviation mechanic technician exam, and they will be able to get their private pilot's license. Heywood said the students will be well prepared for a future in aviation.
To enroll in the program, students must be members of the V.I. Chapter Tuskegee Airmen Inc. Youth Aviation Club, Heywood said.
Heywood said the club enhances the students' learning experience, providing opportunities to attend flying camps in the summer at aviation programs across the country. The organization exposes the students to hundreds of careers in aviation, and they meet people working in aviation. It gives members the chance to attend annual Tuskegee Airmen and Organization of Black Aerospace Professionals conventions.
"We tell the students they are ambassadors of the Virgin Islands," Heywood said.
There are 60 members, age 8 to 18. And all the members earn community service hours doing required volunteering in the community.
Heywood, a charter member of the V.I. Chapter of the Tuskegee Airmen Inc., founded the youth organization to keep the history of the airmen alive.
Local folks may know Heywood as the daughter of Tuskegee Airman Herbert H. Heywood, one of the pioneering black fighter pilots of World War II. When she was a young girl she did not realize how important her father's role in the war was.
"It was in the last 10 to 15 years that people started hearing about the airmen," Heywood said. "There's a lot to be proud of my father for."
She said he was a strict man and pushed education.
Her mother is Catalina Cepeda Heywood, a former Pan American Airlines employee.
Heywood was born on St. Croix and moved to Brooklyn, N.Y., when she was six-years-old. She joined the Air Force immediately after graduating from high school.
She said that wasn't her father's influence. Old military movies made the Air Force look fun to her. In the service she worked as an airfield management supervisor and training manager.
She earned her master's degree in public administration at Troy State University and is working on a masters in curriculum assessment and technology.
Heywood has instructed American Red Cross CPR and First Aid for more than 25 years. She said she and a group of people stood helpless and watched a man die, so she decided to learn CPR.
Heywood is an active member of American Legion Post 102 and is often seen marching with the Legion and the youth aviation club in local parades. She is in her third term as second vice president of the St. Croix Federation of Teachers and a VITEMA government liaison.
She has traveled the Pacific, Middle East, Central America, Europe, and the states.
"I'm a poster child for St. Croix," Heywood said. " I've lived all over. I just love it here."
Heywood hopes to start a Young Eagles group with students as young as eight years old receiving their first flight and continuing their flight training towards attaining a pilot's license.
She said the students would not have the opportunities they have had if it wasn't for the generosity of Bohlke International Airways.
People can get more information about the youth aviation programs by sending Heywood email at [email protected]