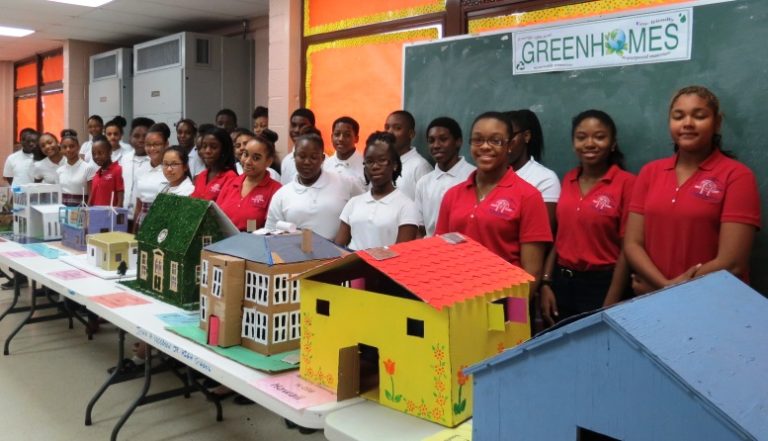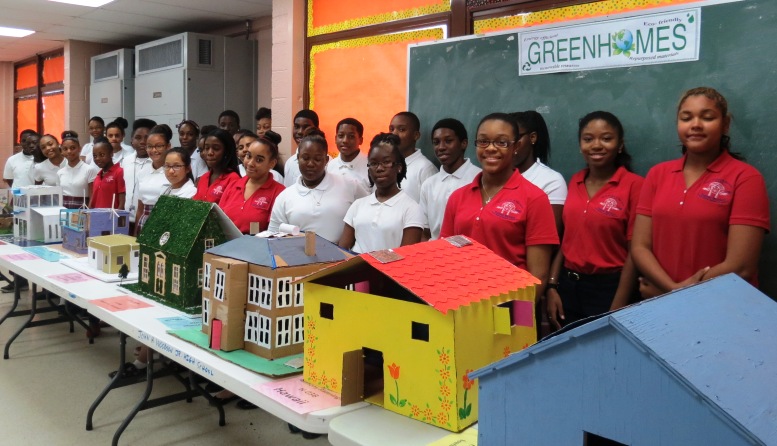 About 38 models of brilliantly designed "green homes" decked the interior of the science laboratory at John H. Woodson Junior High School recently. Science Chairperson Anne Wilkins' students were tasked with creating prototype "green homes" for a classroom project, as part of the U.S. Department of Energy's Homes for Humanity program. The students invested several hours at school and at home to build the miniature homes that are typical of geographical areas of the globe they had researched.
"They randomly selected locations, and examined the climate and architectural designs of the geographical areas, to build homes best suitable to conserve energy and to utilize natural resources," Wilkins said of her 8th graders' project. "It is a project that incorporates Science, Technology, Engineering and Mathematics (STEM)."
Before constructing, the STEM students completed 'The Design Process' for their "green homes," which translates into a 13-page design-folio that they filled out and returned to their teacher for a grade. Basically, they were following the guidelines to build the homes energy efficient, affordable, comfortable and safe, using mostly recycled and natural resources.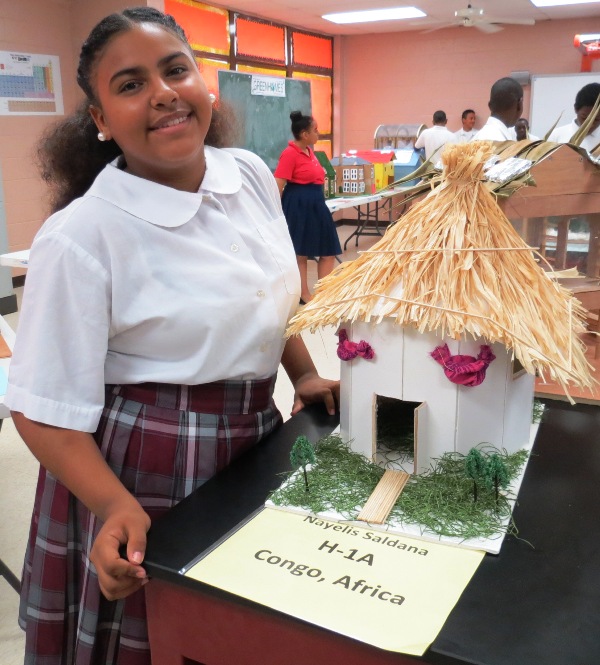 Students Giovani Barnes and Malachi Maillard designed a home suitable for Buenos Aires' cool climate. Their 'home' included insulated walls to hold heat, and water gutters and solar panels to capture the natural elements. Ajahmel Sutton erected his Greenland structure to withstand very cold temperatures. Malik Maillard and Elijah Motta constructing for the warmer and wetter climate of Madagascar, used Plexiglas for filtering natural light into the building as well as stilts to protect it from rising waters. But Nayell O'Shaughnessy was interested in getting close to the water's edge when she built a San Salvador beach side cottage, boasting solar panels and two windmills.
Wilkins remains impressed with the outcome of the students' projects, their focus and their continued interest in promoting a greener environment. She said, "I knew I had excellent students, but I am so proud of them because they surpassed my expectations. I didn't know that they will embrace this idea and really just run with it. With the support of the parents and family, they did a phenomenal job."