On Oct. 1, he National Park Service and Friends of Virgin Islands National Park will begin the rebuilding the playground in front of the National Park Visitor Center in Cruz Bay that was damaged in the 2017 hurricanes.
Construction is expected to be completed by the end of the year, according to a press release the NPS issued Tuesday. While under construction, the playground area will be closed to the public. Once completed, the playground will be managed by the V.I. Sports, Parks and Recreation Department under a special use permit, it said.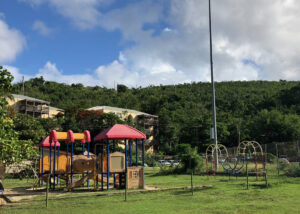 "Partnering with Friends, V.I. Sports, Parks and Recreation, and our broader community is a great step in shared stewardship," said Virgin Islands National Park Superintendent Nigel Fields. "Having a safe, engaging, and accessible space for children to play is important to all who visit the park. More than a playground, this is a space for children to learn about the history and nature of their island while having a ton of fun," he said.
"Projects like this depend on a wide range of members of our community and the National Park Service sharing a collective passion to give our children a place to be just that, children," said Tonia Lovejoy, executive director of Friends. "Much of the open play space for children in Cruz Bay was lost as a result of the hurricanes, making the reconstruction and completion of the playground even more important."
With the theme "Ridgetop To Reef," the playground aims to be a wonderful location for integrating natural landscape, cultural history, community meeting areas and play structures, with multiple opportunities for learning because of its location and with an established use as a play area for island youth.
This is a multi-phase project with a total long-term funding goal of $800,000, according to the press release. Anchored by a gift from Dr. Steven and Jann Paul of $350,000, as well as other donations from more than 100 individuals and businesses, the Friends has funding in place for this first phase, which includes demolition, grading and ground surface preparation, as well as playground equipment purchases and installation, it said.
The second phase of the project that still requires funding will begin in early 2023 to include landscaping, shade structures, a replica of the original customs house, additional seating and a restroom renovation. Anyone wanting to learn more about this project can visit the Friends playground page.
Project Plan and Detail
A thorough planning process has taken into account feedback from community members. The development of the design and the process depended on the generous contributions of Barefoot Design Group, GT Construction, Kurt Marsh Jr., Chelsea Baranowski and Melissa Wilson, the release stated. J. Benton Construction has been contracted by the Friends to project manage and construct the playground.
The playground equipment includes a large playhouse (6-12 years old), a small playhouse (0-5 years old), a large swing set, a Supernova rotating balancing ring, and a toddler swing set carousel. In addition, David and Rhonda McCay have donated a Gary Lee Price sculpture of three children playing.
Trees and plants selected for the playground are native and shade-bearing. The native plant landscaping will include interpretive signage along pathways and in the playground.  Eleanor Gibney has been propagating the native plants for this project alongside the Friends trail crew. Alfredo's Landscaping will help with planting.
Plants selected include: Tabebuia heterophylla (Pink cedar), Coccoloba uvifera (Sea grape), Bucida buceras (Gre Gre), Pimenta racemosa (Bay Rum), Cordia sebestena (Cordia), Capparis cynophallophora (Jamaican caper), Conocarpus erectus (Buttonwood), Guaiacum officinale (Lignum Vitae) and grass (Zoysia).
The project plans can be viewed on the Friends website.