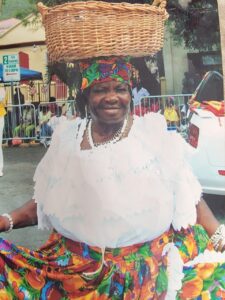 We are sad to announce the death of Martina Magdeline Toussaint, also known as "Maggie" or "Lydia," who passed away on Thursday, Sept. 29. at Roy Lester Schneider Hospital.
She was born in Grenada and migrated to the Virgin Islands. She was known as a lottery dealer and a member of the Mongo Niles Quadrille Group.
She is survived by her children: Ricardo Toussaint, Obrian Toussaint, Lisa Toussaint, Dale Charles (Alvinus Charles Sr. in-law), Mario Toussaint and Aleth Toussaint; sisters: Ann Willock, Mary-Anna Aberdeen and Carol Aberdeen; and brother, Anthony (Clarie) Aberdeen.
She is also survived by 13 grandchildren: Natalie Toussaint, Mandisa Toussaint, Radiant Toussaint, Mariah Toussaint, Shakima Toussaint; Curlon Walcott, Alvinus Charles Jr., Porscher Charles and Malaki Charles, Anika Felix, Amecia Felix and Erik Felix; seven great-grandchildren; numerous nieces and nephews, including Aron Aberdeen; and many other relatives and friends.
Relatives and friends are respectfully invited to attend the first viewing from 5-7 p.m., Wednesday, Oct. 19, at Celestial Chapel of Hurley Funeral Home.
A second viewing will take place at 10 a.m. followed by a funeral mass at 11 a.m., Thursday, Oct. 20, at Holy Family Church in Anna's Retreat. Interment will be at Eastern Cemetery, Smith Bay.
Funeral arrangements are under the care of Dan Hurley Home for Funerals and Cremation Center of St. Thomas, St. John and St. Croix.
For online directions or to share a special memory, please visit our website at www.hurleydavisfuneralhome.com