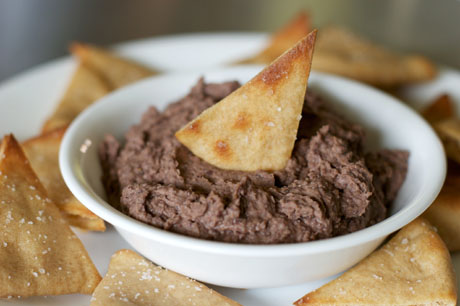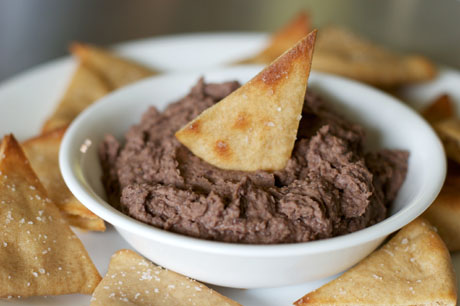 The black bean dip I have revised over the years from a recipe I originally found in "Moosewood Kitchen Cooks at Home," is a big favorite in our house. It works for lots of things: a chip dip, a sandwich spread, a quesadilla filler. Or you can fork it right into your mouth.
It's high in protein and carbohydrates, low in fat and has zero cholesterol, unless you add the feta option. These little black darlings also contain omega-3 fatty acids, complex carbs and phytochemicals with cancer-fighting and cholesterol-lowering properties.
They are beneficial for the heart, liver, kidneys, pancreas, lungs and intestines. They also contain folic acid, which is among other things, effective in fighting Alzheimer's.
Don't be put off by all the healthy things about this recipe. It is delicious, too. You can also eat it with chips if you want to offset some of the health-enhancing properties.
It's best to have a food processor for this, but you can do it with a potato masher or fork.
2 cups black beans (cooked or canned) and rinsed
1.5 tsp.whole toasted cumin seeds (use ground if you don't want to bother roasting)
3/4 tsp ground coriander
pinch of cayenne
3 garlic cloves, minced
1 cu more or less of chopped cilantro
1 tsp. olive oil
½ fresh squeezed lemon
salt to taste
(sometimes I add several chunks of feta cheese at the end for a different type dip)
Throw peeled garlic cloves into food processor and chop well. Add beans and other spices, process again. Add oil and lemon, cilantro and salt to taste.
Black bean dip, with provolone cheese, lettuce and tomato on Ezekial bread makes an awesome sandwich.
It is also a great topper for raw crackers that I make with all kinds of nuts, seeds, veggies and flax. Those are a bit more complicated and require a dehydrator. But talk about good for you!