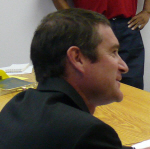 After allowing slots at Randall "Doc" James Racetrack for two days last week under a supplement to Divi Carina Bay Casino's license, the V.I. Casino Control Commission temporarily pulled the license, held public hearings Friday and will act on a new permit within 90 days.
Last year, the V.I. Legislature passed a "racino" law allowing slot machines at horse racing tracks. The law aims to help finance the struggling horse racing industry on St. Croix, and in the future possibly on St. Thomas, by using some of the proceeds from slot machines to increase race purses and promote racing.
The St. Croix track is run by Traxco, which is owned by Treasure Bay V.I., the same parent company as Divi Casino. The track has been losing money for years, but horse racing has strong local support, prompting the legislative action to allow slots as a way to bring in more revenue.
After the bill was signed into law last May, Casino Control Commission Director Gizette Thomas issued Divi a provisional modification to its existing license, letting it operate 32 slot machines at the racetrack. Slots were opened at the track last Thursday and Friday from 10 a.m. to midnight, but the commission then advised the track to hold off until public hearings could be held on a new license.
Thomas said after the hearing she changed course on the permit after speaking with Attorney General Vincent Frazer, who suggested Divi may need an entirely new permit, with new hearings, rather than a supplement to the casino's existing license, because the games are at a new location.
"It was a question of whether you consider it a new casino or an extension of an existing casino," she said.
By law, the commission has 90 days to act on the permit, now that a public hearing has been held, Thomas said. She would not give a specific time frame, but said she expected the commission to act fairly quickly.
During the hearing, Divi General Manager Anton Kuipers said Divi has rearranged about a thousand square feet of the track's facilities to put in 32 machines. They have built a cashier's cage, an ATM station, a jackpot station and counting room, he said.
Divi plans to build out a 5,000-square-foot section under the track bleachers and add more machines and customer amenities, for a total of 80 machines. But that second phase will require Coastal Zone Management and other permits and will take a bit longer, he said.
"I can't predict for sure because of the permit process," Kuipers said. "But I would certainly hope within two years and hopefully within one."
St. Croix resident Palmira Rijos stood up on behalf of a group of senior citizens who like to play the slots to raise several concerns and questions about the racino. First and foremost, Rijos said, the new section had only one entrance and exit, which prompted safety concerns with some of her associates. Thomas said they would look into it while working on the new license.
Rijos also said Divi does not give senior citizens as much in the way of free drinks, snacks and incentive cash for the slots as stateside casinos and asked if it would consider offering a bit more.
Present at the hearing were Thomas and Commissioner Violet Anne Golden.