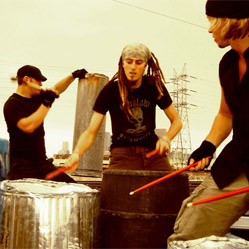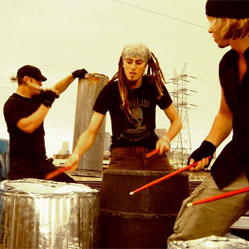 Sometimes the money to buy an instrument isn't always in hand, but students from across the district learned Thursday how to make music with everyday household items.
About 700 students packed the Reichhold Center for Arts Thursday for the early morning music lesson from Street Beat, a dance and percussion group scheduled to perform at the center Saturday night on St. Thomas.
The workshop was part of the Reichhold's Arts and Education Initiative, which continuously exposes V.I. youth to the artists the center showcases each season.
"A lot of the students who come here in the daytime would not ordinarily be able to come to our shows at night," said Karen Gutloff, Reichhold's marketing manager. "Sometimes it's costly or not accessible to their families, so this is a way for us to introduce children to the theater and the arts in a very educational way."
Gutloff also said that Street Beat is a group that stresses creativity, which is why the Reichhold is "so excited" about the show.
"They're using anything from a paint bucket to a trash can to make instruments," she said. "They show the kids they can make a lot of music, a lot of sound, with something very basic."
Working with the kids Thursday, one of the group's members also said he hope their methods of making music were inspirational to the students.
Formed six years ago, Street Beat uses "repurposed" percussion items (such as junkyard mufflers and old pots and pans) to make their sound, which Street Beat's Nik Hughes said is very beat-driven and focuses more on urban music. The five-gallon paint bucket is also a "staple" of their ensemble, which Hughes said was assembled at times through trial and error.
"Sometimes we just pick up things and hit them, and certain things sound cool," Hughes said. "That way we've assembled a really good group of instruments."
Teachers attending the workshop were encouraged to use the group's methods in their lesson plans, including using their bodies to make rhythm.
"We really just want to inspire them and show them that music can be made without spending a lot of money on instruments," said Hughes. "And it's a really high energy show on the music side, and from the dance side, we also want to show the kids that you also don't need anything special – you can learn how to dance and have fun doing that with your friends."
Street Beat will be on St. Croix Friday for a daytime workshop with local students.