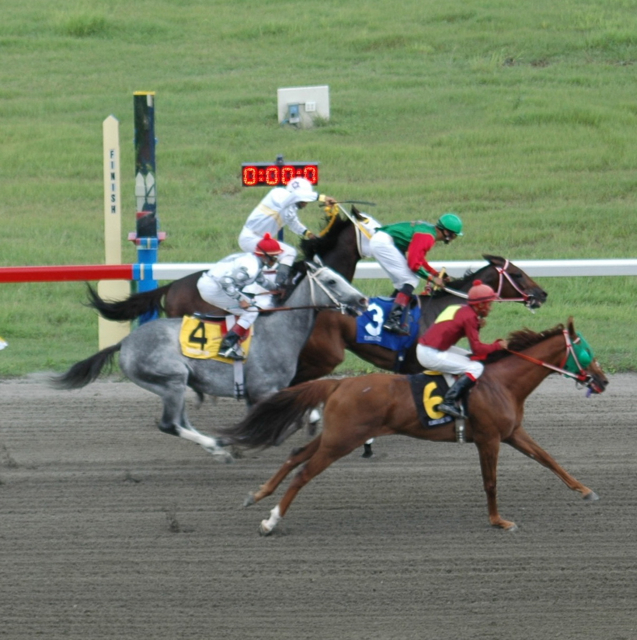 The 2011 thoroughbred racing season gets under way Sunday at the Randall "Doc" Racetrack with the annual Agriculture and Food Fair Races.
Eight races are on the card and many of them have full gates.
The days feature race, "The Ag Fair Classic," run at a distance of 1 1/16 miles for a purse of $6,000, will see the return of British and U.S. Virgin Island champ Lake Texoma out of Tortola, carrying 120 pounds. In his last visit to the big track, he destroyed a field that included the then St. Croix champ and highly regarded El Real Madrid, winning going away.
He is expected to get some competition from Erie's Run, 118, who will make his second start in the V.I. and also comes with high expectations. St. Thomas will be represented by Sum Splendor, 120, who has won his last two on St. Croix and should run well on Sunday.
Rounding out the field and all representing St. Croix are Puerto Rican Emblem, 118, Temo's Dream, 116, Spanish Market, 118, and the Speedy Green Sand.
The rest of the day's card:
The rest of the day's card:
Race 1 N-6 7 Furlongs
1. Love City Slew 114
2. Road AKA Officer 116
3. Deroadismine (STT) 116
4. Midnight Indictment 116
5. Joe boss 114
6. Dueces Halo 114
Race 2 N-2-3-4-5 7F Furlongs
1. Kings of Kings 116
2. Emerald Star 118
3. Gold Finger 116
4. Irie Ites 117
5. Super Sop 114
6. War 117
7. Belzona Red 115
8. Turnbull Delight 117
9. Dinero (A/E) 120
10. Dana's Express (A/E) 116
11. Midnight Approval (A/E) 116
12. Fightforyourrights (A/E) 116
Race 3 Class I-5 7 ½ Furlongs
1. Prototype 117
2. Ed's value 116
3. Russian Way 115
4. Far Rumor 116
5. College Ville Kid 117
6. Cool Light 114
7. Tulsa boy 117
8. ITSMIDAS 116
9. Formerly Cat (A/E) 117
Race 4 Class I-4-5 1M
1. Halo Boudreaux 115
2. Suave Smile 118
3. Big thunder Reflec 114
4. Original Runner (Tor)(Deb.)118
5. Old Town(STT)(Deb.) 114
6. My Own Sky 118
7. Blackjack Bob 117
8. Black Machine 115
Race 5 Class I1-2-3 M/F 1 mile
1. Bold Cleo 120
2. Finish in Style 120
3. Wonderifiamspecial 116
4. Cinque Terre 119
5. Devil's Revenge 114
6. Leggy Blonde 117
7. Flanker's Lady 118
Race 6 Class I-2 & I-3 7F
1. Rotation 116
2. Ala Cat 116
3. Cherokee Law 118
4. Starship Voyage 116
5. Expect Smoke 118
6. Akebono (Deb.) 118
7. Salty Glider 116
8. Do Re Me Concerto 116
Race 6 Class I-4 & I-5 7 ½ F
1. Cherokee Neesh 116
2. Apron Dance 117
3. Destiny Arrival 118
4. Excessively Classy (Deb.) 114
5. Star Stripe (Deb.) 114
6. Sarasota May Bell 116
7. Sweep Tea 114
8. Dance Mistress 115