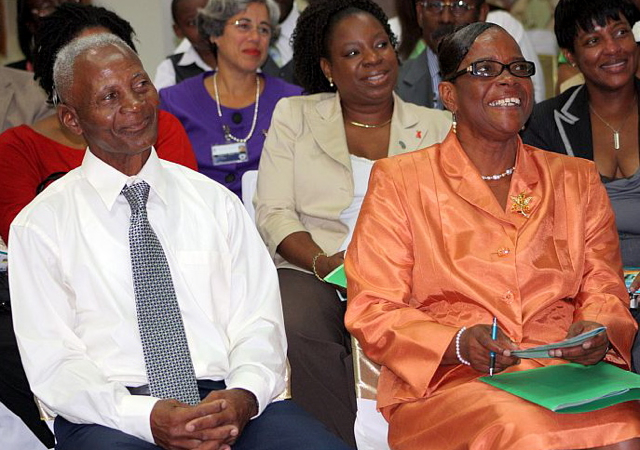 A fixture in labor and delivery at Schneider Regional Medical Center, Cynthia V. Browne Stapleton will now have her name permanently displayed across the unit she's dedicated her life to for the past 35 years.
Sitting with friends and family during a recent ceremony honoring the Labor and Delivery Unit's new namesake, Stapleton heard countless tales of her work ethic.
"For 26 years she served as head nurse of the unit, while the physicians had a revolving door," said Dr. Wilbur Callender. "We had at least six chiefs … but Mrs. Stapleton always stayed on the job. Now, the hospital probably owes her a lot of money, but I never saw anyone who could stay here so long, hour after hour, taking care of patients, and I describe her as being altruistic, benevolent, caring, dedicated, eager, fair-minded, gentle, hardworking – a workaholic-like health provider and she certainly has been one of the best I've ever had the pleasure of working with."
Callender said while recently joking around at Stapleton's retirement party, he mentioned that the unit should be named after her.
"It was done in jest," he said. "I really wasn't serious, because I know what happens in this territory – people are recognized long after they're dead. But someone, recognizing this person really had done something good … somebody took up the ball and ran with it."
Senators passed a resolution last year honoring and commending Stapleton and naming the unit after her. The resolution praises Stapleton's "exceptional skills in nursing midwifery and health care," and mentions that over the course of her career, Stapleton has delivered 3,000 babies and helped out with over 2,000 deliveries.
"It's a well deserved, well deserved honor," Callender said at the unveiling ceremony.
Speaking later, Stapleton said she has just been following her "calling."
"This is really overwhelming," she said. "I just did what I had to do because that's what I was called to do, and I wasn't expecting any type of recognition. I can't really describe how I feel – it's just really heartwarming."
Stapleton said she began her career in 1974 and, though now retired, is still working part time at the hospital.
"When I was born I was told I was very premature and I decided, someday I'm going to take care of babies, I'm going to deliver people," she said. "And that's the reason why I'm so passionate, it's the reason I really love what I do."
Other speakers at the ceremony included Dr. Alfred Heath, hospital Chief Executive Officer Alice Taylor and Sen. Patrick Simeon Sprauve.