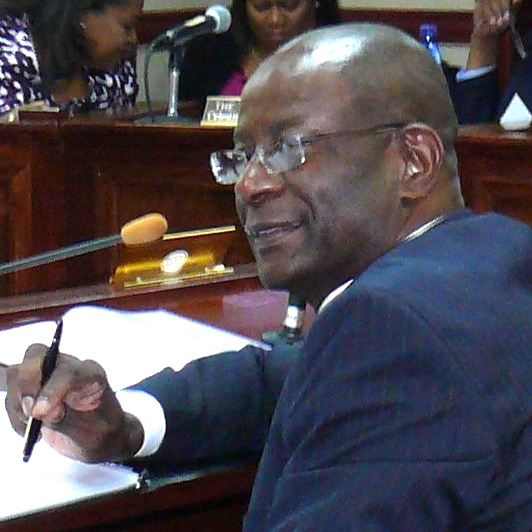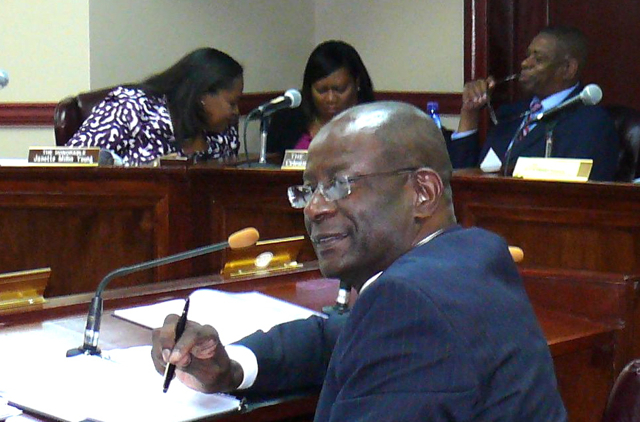 Former V.I. Police Commissioner and current assistant to the adjutant general of the V.I. National Guard Elton Lewis' nomination to permanently head the V.I. Territorial Emergency Management Agency was approved in committee Thursday and sent on to the full Legislature for a final vote.
Lewis has been acting director of VITEMA since Mark Walters departed the post at the end of January. Walters was on loan from the Federal Emergency Management Agency and is returning to work at FEMA.
Prior to taking up the reins at VITEMA, Lewis was V.I. National Guard director of the joint staff, and he and Walters have worked closely for the last two years, Lewis said in his testimony to the Rules and Judiciary Committee.
Lewis was also V. I. Police commissioner for four years from 2003 to 2007.
In his testimony, Lewis recounted how, between 2008 and 2010, VITEMA was reorganized into an independent cabinet-level agency, built a new headquarters on St. Thomas, launched a mass alert system and began implementing a tsunami early warning siren system.
As a result of the reorganization, VITEMA became compliant with federal guidelines, improving its ability to qualify for more federal grants, he said.
Over the short term, Lewis intends to install a tsunami warning system that has been in the works for several years. VITEMA has already purchased 10 sirens that give a warning tone audible a mile away and voice warning intelligible at up to 2,000 feet.
"In the next few weeks, VITEMA will begin the territory-wide installation of the tsunami early warning system," Lewis said.
Along with seeking U.S. Homeland Security grants to buy more sirens, VITEMA will urge hotels to each purchase one unit for their property, "which would not only enhance their tsunami readiness but also serve the homeowners within reach of the siren," he said. The goal is to blanket the territory over the next several years.
The V.I. Water and Power Authority has agreed to donate and install the poles for the sirens and hook them up to its grid, "which provides a significant cost savings for the project," he said.
Lewis said one of his biggest early challenges after taking up the VITEMA post has been to find a temporary home for St. Croix operations after getting an air quality assessment showing mold and fiberglass in the air at the old headquarters. In response, he moved the St. Croix headquarters into the De Chabert building in Christiansted, where Bureau of Information and Technology Director Paul Arnold has agreed to temporarily let them use empty offices "at a minimal cost," he said.
Over the longer term, Lewis said he wants to fix up VITEMA's St. Croix facilities in Hermon Hill to mirror the St. Thomas headquarters, which has a state of the art emergency operations center; 911 call center, teleconferencing facilities, offices and a dormitory where personnel can stay during a major disaster. The wor on Hermon Hill will need money and cannot be undertaken during the current fiscal crisis, he said. But once the recession fades and finances improve, he hopes the Legislature will help with funding. In 2010, the Legislature approved $350,000 for design work on the St. Croix office improvements, he said.
Sen. Sammuel Sanes asked when Hermon Hill work might be done, and Lewis said it was "at least two years" away, depending on funding.
Born in Frederiksted, Lewis graduated from St. Croix Central High School in 1971 He joined the V.I. Police Department in 1973 and the V.I. National Guard in 1976. He rose through police ranks, ultimately holding the top position of commissioner of police.
In the Guard, Lewis served as the director of Joint Staff since 2007 and is now assistant adjutant of the Guard, a position he was appointed to in 2005. As a federal technician employee, he has been director of the V.I. National Guard's Joint Force Headquarters from August 2007 to December 2010.
His awards and decorations from more than 30 years of military service include the Meritorious Service Medal, Army Commendation Medal, Army Achievement Medal, National Defense Service Medal, Humanitarian Service Medal, Overseas Service Ribbon and the Army Reserve Component Overseas Training Ribbon.
The nomination was approved unanimously. Present were Sens. Usie Richards, Carlton "Ital" Dowe, Alicia "Chucky" Hansen, Ronald Russell, Sammuel Sanes, Patrick Sprauve and Celestino White. A final vote before the full Legislature has been tentatively scheduled during legislative sessions scheduled March 23 and 24.