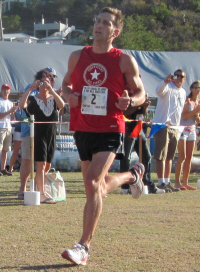 As Ohioan Chris Reis knows all too well, they don't call it 8 Tuff Miles for nothing. That didn't stop him from breaking the course record.
"This course is unlike anything else. It's brutal," the Cincinnati resident said after crossing the finish line in Coral Bay ballfield, beating out some 880 other participants to take first place in the 15th annual race.
The 29-year-old manager of a running store in Cincinnati said he felt more consistent this year than last, when he finished second. And he said he ran the 8.38-mile course from Cruz Bay to Coral Bay about five to 10 seconds a mile faster than last year.
With a time of 46 minutes, he bested the old course record by 26 seconds.
Another Cincinnati resident, Court Lily, 33, was a member of the dozen or so strong contingent that's made a habit of running 8 Tuff Miles. He was second with a time of 49 minutes and 45 seconds. He said he trained hard for the race but the best part was finishing.
St. John resident Jeremy Zuber, 30, who captured first in several previous races, had to settle for third this year.
"I went out with the leader but things came apart," he said. Zuber's time was 50 minutes and 48 seconds.
Ruth Ann David, 37, of St. Thomas made it a repeat with her second victory in a row for the women despite claiming that she only started training a month ago.
"I'm scared of this race. It's really hard," she said. Her time was 57 minutes and 39 seconds.
Letitia Dusich, 30, took second for the women. A former St. Croix resident who now lives in Colorado Springs, Colo., she set the still-standing women's record in 2004 with a time of 57 minutes and 15 seconds. With a time of one hour, two minutes and 11 seconds, she wasn't that fast this year and wasn't too pleased with her result. "But I just love the race," she said.
Delene Jewett, 32, of Seattle took third with a time of one hour, three minutes and 27 seconds. Last year she was also third, but since she was just coming off a bad injury, she said she was pleased with her result.
"It's beautiful, but it's very challenging," she said of the course.
Jeff Miller, a member of the organizing committee, said there were no serious injuries but several people were treated for what appeared to be dehydration.
Miller noted that 8 Tuff Miles raises money for college scholarships and donates money to organizations that help support the race.
While the race is for the runners, it wouldn't happen without the volunteers who show up in droves to do everything from staff the aid stations that line the route to hand out medals at the finish line. Miller put the number of volunteers at 100-plus.
He also had kudos for agencies like St. John Rescue, the V.I. National Park, the Public Works Department, and the Police Department for their help with the event.
St. John resident Ellie Wasson volunteered to get the goodie bags ready and hand out T-shirts.
"It's great to be part of this and it's a fun-filled event," she said.
Jackson, N.H., residents David Herr and his wife, Eileen McDonald, are on St. John as members of Willing Workers on Organic Farms. They're helping with a construction project and wanted to get more involved in the community. "It's really important to get to know people," McDonald said.
Jesse Ryan of St. Thomas was on hand to cheer on friends — and have a telling last word.
"These people are obviously nuts for doing this," he said.
For full results, visit 8tuffmiles.com.