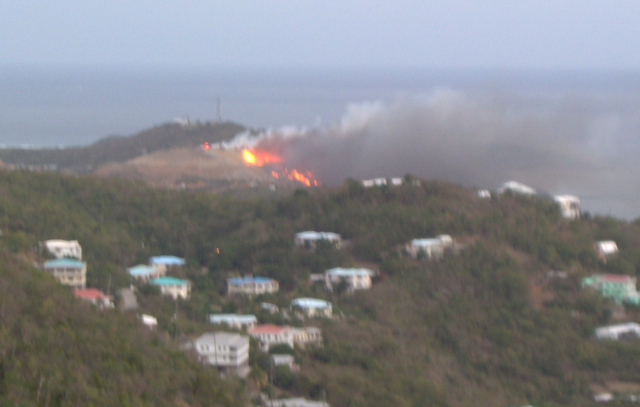 Fire Service officials said they needed to pull everything in their arsenal to contain a blaze that erupted Sunday night at the Bovoni landfill.
While the initial call in to emergency responders came around 6:45 p.m., witnesses reported seeing the flames nearly an hour before. According to St. Thomas resident Kerry Klein, the blaze started with a spark, which "rapidly spread" into a "raging brush fire" over the course of 15 to 20 minutes.
"It's on top of the dump," Assistant Fire Services Director Daryl George said when called on his cell phone a couple hours later. As crews continued to battle the flames, George added, "we're out here fighting it, trying to get it under control by tonight."
Around 8:30 p.m., the fire was contained on the eastern side, but still raging on the west toward Bolongo Bay. A V.I. Waste Management Authority release sent later in the evening said the flame was fanned by strong winds experienced throughout the day, which eventually caused the fire to "jump" down the slope toward Bolongo.
"The guys are really in the thick of it now," George said, adding that they were making some headway. George said while it was still too early to tell what caused the blaze, it appeared that there were no major items, such as e-waste or tires, on fire.
"It's basically just household garbage and goods," he said.
Fire fighters fought the blaze with water and foam, while Waste Management worked with private haulers on bringing in additional fill materials. Water haulers are also bringing additional water, according to the Waste Management release.
George said there were no roads closed in the area Sunday night and that he does not anticipate any school or business closings Monday.
Waste Management said the landfill will be closed to the public on Monday. Waste haulers are being asked to follow the directions of Waste Management and A-9 staff when entering the landfill.
No injuries have been reported, he said.
Also responding to the scene Sunday were personnel from the V.I. Territorial Emergency Management Agency, V.I. Police Department, Emergency Medical Services, V.I. Rescue, Public Works and Waste Management, among others.