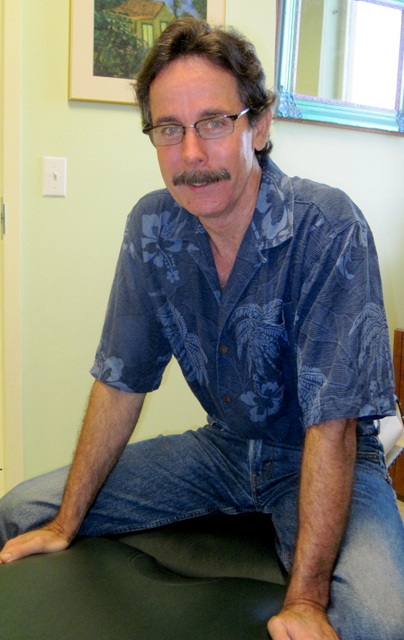 St. John chiropractor Bern Putnam, 56, takes a holistic approach when it comes to helping his patients.
"I work closely with physicians," Putnam said.
Putnam's philosophy includes combining chiropractic medicine with traditional medicine as well as other less traditional practices such as acupuncture.
He's now doing a lot of rehabilitation work with referrals from orthopedic doctors, but much of his work deals with neck, low back and medium back pain.
"For low back pain, chiropractic works better than anything else," he said.
He accepts insurance through V.I. Equicare providers, but does not participate in Medicare. However, he said he gives Medicare patients a "really reduced" rate.
Putnam's route to chiropractic care had several twists. After graduating with a bachelor's degree in biology from the University of Vermont, the Acton, Mass., native moved to Las Vegas to become a professional dancer in jazz and ballet, and to work as a yoga instructor.
While taking graduate level classes, one of his professors suggested he study chiropractic medicine because the field needed more people with science educations.
He went on to get a master's degree in exercise physiology and cardiac rehabilitation at the University of Nevada and a chiropractic degree from the College of Chiropractic in Los Angles. He's also done post-doctorate certification in sports medicine through the New York Chiropractic College.
While in Las Vegas, he met his wife of 25 years, Liz Putnam. With Liz Putnam hailing from Venezuela, they wanted to live in a place where their daughter, Alexa, now 22, would be exposed to multiple cultures.
St. John fit the bill, and the family moved to the island 17 years ago. Liz Putnam helps a bit with his practice. Alexa, who is best known as a skeleton racer zooming down icy slopes face first on a sled, is now studying biochemistry at the University of Massachusetts in Boston and taking ballet classes.
Putnam has a busy practice, sharing space at the Health Care Connection in the Marketplace shopping center with Dr. Scott Hartshorn and nurse practitioner Judith Whitley, but he's one of the island's busiest volunteers. He's often seen helping at the finish line at various sports events.
And he's now studying sign language via the Internet. He said that if the day ever comes when he leaves St. John, he'd like to work his chiropractic skills with deaf people.
With the leading edge of the baby boomers now reaching Medicare age, Putnam had some advice. He said swimming and bicycle riding are good activities to help stave off the necessity of hip replacements. And Pilates and yoga help with balance issues. He also suggested eating property helps too, which means giving up those traditional three starches with every meal.
"And try to be happy every day," he said.
Putnam can be reached at 693-7100.