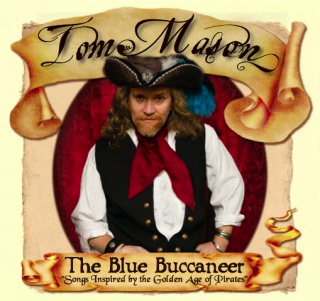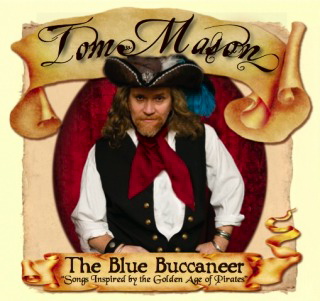 Pirates invade the Virgin Islands beginning Wednesday; only these buccaneers aren't coming to loot and pillage—they're here to play music.
Nashville musician Tom Mason is no stranger to the Virgin Islands, he's been coming down to perform with different groups for the last seven years. He has just released "Blue Buccaneer," a new CD of original songs "inspired by the Golden Age of Pirates," and he couldn't think of a better place to debut it than the Caribbean.
The pirate act is new for him, and he came to it in a roundabout way. If you like pirate music, you can thank country legend Johnny Cash for providing the path Mason followed.
Mason is a well-known figure in the genre of music loosely defined as "Americana." It's a hard genre to pin down—it's not quite rock, though it contains some great guitar riffs, and definitely not country, despite the fact that it often includes Dobro and steel guitar.
There's a lot of folk in it, and blues and definitely some bluegrass.
"That's what they call it, it's the grand umbrella, the melting pot that America is … It's just good music," Mason said Tuesday, shortly after arriving on St. Thomas.
Mason was performing with a touring musical, the stage play "Ring of Fire," about the music of Johnny Cash, and the cast of 16 found itself staying in a lot of "middle of nowhere" hotels.
"We'd have these jam sessions in someone's room," he said. "I'd play 'The Pirate Song' (from his album, "Alchemy") and they really liked it. They told me, 'You ought to write a musical.'"
Mason did some work on the idea, reading a lot of books and researching on the web, and started putting together songs. But writing a successful music and defying the odds to make it to Broadway is a chancy business, so Mason has put the idea on hold.
But he does have 13 pirate-inspired songs and decided to put them on the new album.
Mason will be backed by bass player Lorne Rall and drummer Paul Griffiths, both of whom play on the album. But Mason said that as the tour progresses, there's always a chance he'll be able to pick up a few extra players from the many musicians he's worked with on the islands.
"The more the merrier!" he said.
Tuesday he and the band were working to round out their pirate wardrobes. They all have head scarves, and they've got two pirate shirts (bassist Rall was still missing a shirt at the time of the interview.) No tricorn hats, he said, but they're making do with what they have.
Putting on the pirate persona is fun, Mason said, but it's also more than that, as he's learned in his research.
"I love it," he said, "and it's such a great chunk of history. Just reading where these people came from. They were victims of economic oppression … Where they came from was such an incredible story, they were driven into this lifestyle."
In past visits to the territory, Mason has performed with a country band called Last Train Home and a group called Big Happy, made up of him, his wife and another couple.
His schedule for the coming two weeks is:
Wednesday – Latitude 18, 7:30 p.m., on St. Thomas
Thursday – Jack's Wings, 8 p.m., on St. Thomas
Friday and Saturday – Jolly Roger, 8 p.m., Tortola
Sunday – Hull Bay Hideaway, 5 p.m., St. Thomas
Monday – Tickles, 7-10 p.m., St. Thomas
Tuesday, March 8 – The Beach Bar, 8 p.m., St. John
Wednesday, March 9 – Shipwreck Landing, 8 p.m., St. John
Thursday, March 10 – The Inn at Tamarind Court, 7:30 p.m., St. John
Friday, March 11 – Cheeseburgers in American's Paradise, 7 p.m., St. Croix
Saturday, March 12 – Jasmine Manor, 8 p.m., St. Croix
Sunday, March 13 – Rhythms at Rainbow Beach, no time listed, St. Croix
Monday, March 14 – Angry Nate's, 8 p.m., St. Croix