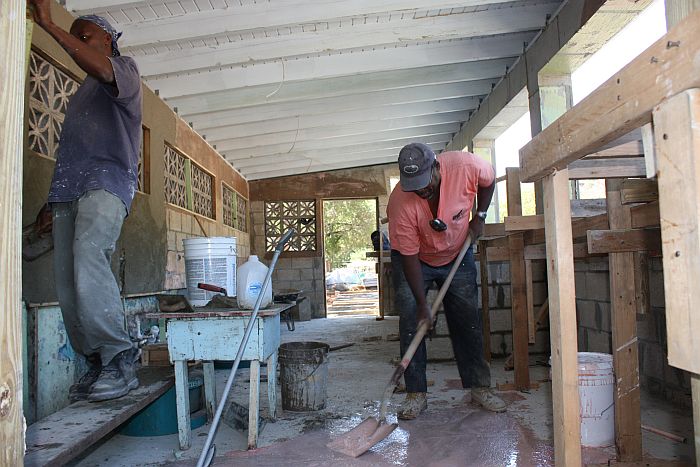 A year after completing phase one, the Department of Housing, Parks and Recreation has begun its second phase of renovations to the Lionel Roberts Stadium and nearby Winston Raymo Recreation Center, which is expected to be finished by Carnival.
"One of the things we have been doing throughout the past couple years now is renovating and enhancing most of our parks and recreational facilities," Housing, Parks Commissioner St. Claire Williams said. "And the stadium is included in that."
An allotment of $1 million from the Public Finance Authority has been put toward the stadium upgrades, which included, in phase one, renovations to the restrooms, roof and structural work on the frame of the building, repairs to the covered bleachers and a repainting of the stadium's interior and exterior.
Phase two, Williams said, includes completely renovating the concession building and replacing the outdoor bleachers.
"We're trying to be finished before Carnival, and we did the same thing last year," Williams said. "We're trying to finish in time so we're out of there before those activities begin, but it's not only Carnival that benefits from it. Everyone benefits from it year round."
Across the street, the Raymo Recreation Center is also getting a major overhaul, with extensive renovations to the interior of the building. Williams said during phase one, the department worked together with International Capital and Management — an Economic Development Commission beneficiary that supplied much of the labor — to rebuild the roof, resurface the basketball courts and create a children's park in the back.
The Community Foundation of the Virgin Islands also had a hand in the creation of the children's park, which houses one of the island's "Born Learning" trails.
The second phase of the project includes making the restrooms handicapped accessible, along with putting up putting up new ceiling tiles and walls.
"The facility has been long overdue for repairs, and we're totally renovating the inside," Williams said.
Williams said the next step is continuing work at the Frydenhoj baseball field, where the department has already done work on the basketball court and put in some playground equipment.