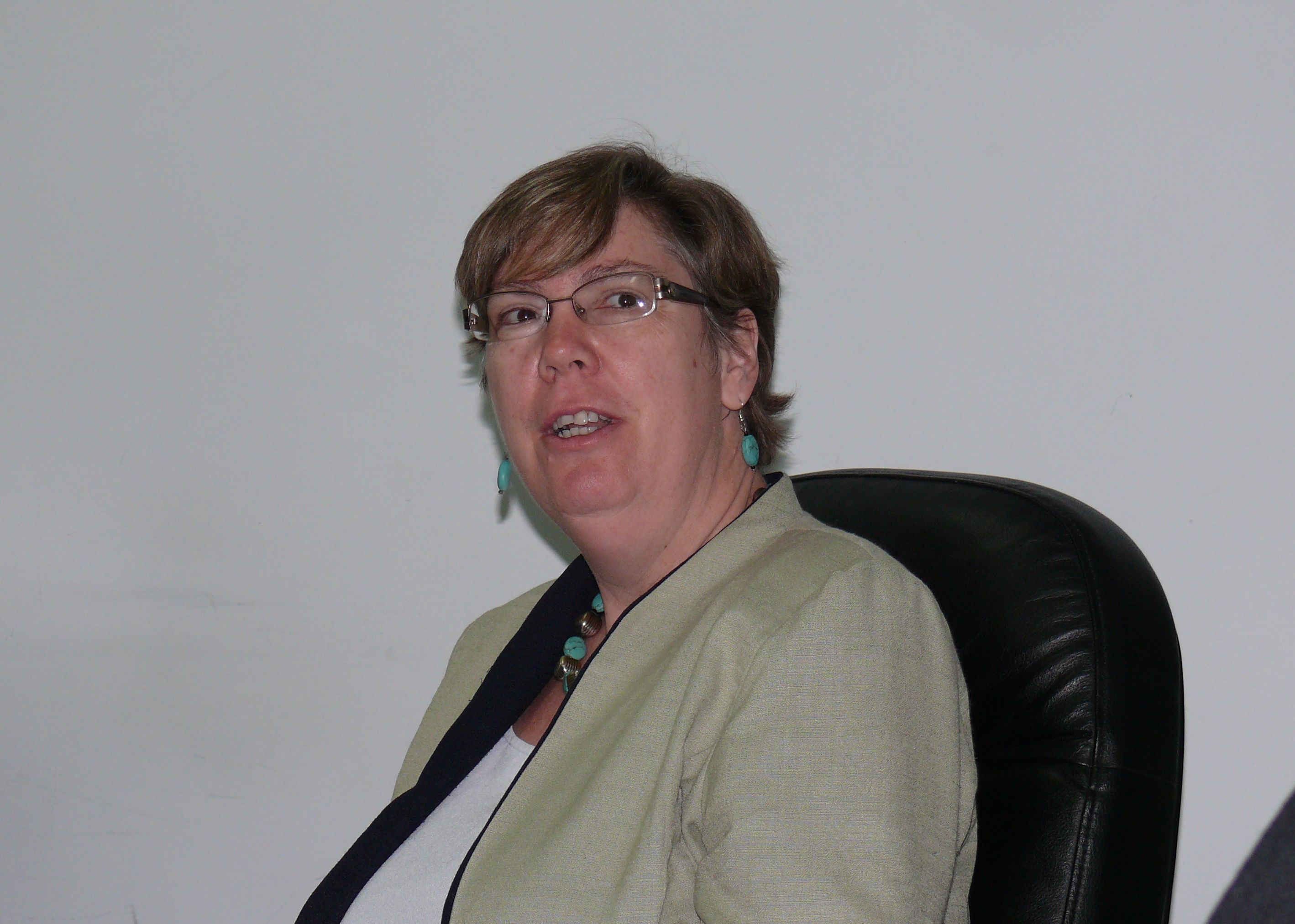 How to proceed toward comprehensive recycling territory-wide was the main topic Thursday between visiting Environmental Protection Agency Regional Administrator Judith Enck and representatives from the V.I. Recycling Partnership (VIRP).
From getting a proper tire shredder to grinding glass into sand for septic fields, the two parties talked over the nitty-gritty of recycling in Frederiksted.
Enck, administrator for EPA Region 2 (including New York, New Jersey, Puerto Rico and the U.S. Virgin Islands) is here in the territory for a week of meetings and talks with local environmental officials, top government representatives, environmental groups and several public forums.
Thursday at V.I. Department of Planning and Natural Resources (DPNR) offices in Frederiksted, Enck met with VIRP, a local partnership that EPA initiated with the V.I. Waste Management Authority (WMA) as part of a nationwide program to help localities establish comprehensive recycling programs.
The partnership joins federal and V.I. officials with environmental organizations and private companies who deal with aspects of recycling and processing waste. VIRP is working with Mark Lichtenstein with the Environmental Finance Center at Syracuse University to develop a set of specific recommendations for the appropriate government agencies.
Enck said EPA wants to help the territory establish a comprehensive program that does three things. First, it should reduce waste, "because if you don't have to handle it to begin with, that is even better than recycling," she said. Getting more people on board with seemingly small things like bringing their own bags to the store and actively trying to use fewer individual containers in favor of larger sizes or different packaging can all make a measurable dent in the waste stream at essentially no cost, she said.
Second, there needs to be a comprehensive recycling program, diverting and processing as much as possible from the municipal waste stream; and lastly, there has to be some form of comprehensive composting.
Up to 30 percent of landfill volume is green waste, Enck said. Once you have reduced, diverted, recycled and composted as much as possible, she said, "what is left may be handled by a small, state-of-the-art landfill. And then you provide economic incentives not to fill it up."
WMA Executive Director May Adams Cornwall—who reported on WMA's work on scrap metal, e-waste recycling and ongoing work toward setting up a waste-transfer station—said she believed a new landfill would be problematic and that burning of plastics and some green waste for energy "might be the best, highest use of that product here."
The WMA has partnered with the Alpine Energy Group on a waste-to-energy plant on St. Croix to take processed refuse from the whole territory, a plan which, after major changes last year, is now in the early stages of the permit process.
St. Croix Environmental Association Executive Director Paul Chakroff said WMA is in the process of installing a large shredder for green waste and asked Cornwall if she planned to sell it as a soil amendment and cover, or use it for energy, or a mix of both.
"I'm glad you said 'mix,'" Cornwall said. "Some we will use for waste-to-energy, and some we will sell as compost." The exact mix, she said, will be determined by the quantity and quality of the waste and the demand generated.
WMA will soon begin shredding at Estate Body Slob and plans to bring all the green waste to that location, she said.
"So it will be primarily market driven?" Chakroff asked.
"Exactly," Cornwall said.
Along with these broad goals and issues, the group touched on all aspects of the recycling question, with Lichtenstein leading much of the discussion. Enck tasked him to facilitate the partnership and, with its input, come up with an action plan of specific recommendations After that, VIRP will fine-tune the report and write up proposals and recommendations for specific actions by the EPA, WMA and probably the governor and the V.I. Legislature, he said.
The document is not a directive but a set of recommendations meant as a tool and reference for the appropriate government bodies to work with, he said.
On Friday Enck will be joined on St. Croix at UVI's Great Hall by Delegate Donna Christensen, Gov. John deJongh Jr. and other environmental, government and academic leaders. Topics covered will include EPA's environmental and public health priorities for the territory, waste management, recycling, air pollution controls, and other pressing environmental topics.
The conference begins at 9 a.m. The public is invited, but registration is required. The full agenda and registration information are available at www.epa.gov/region02/40thanniversaryvi.