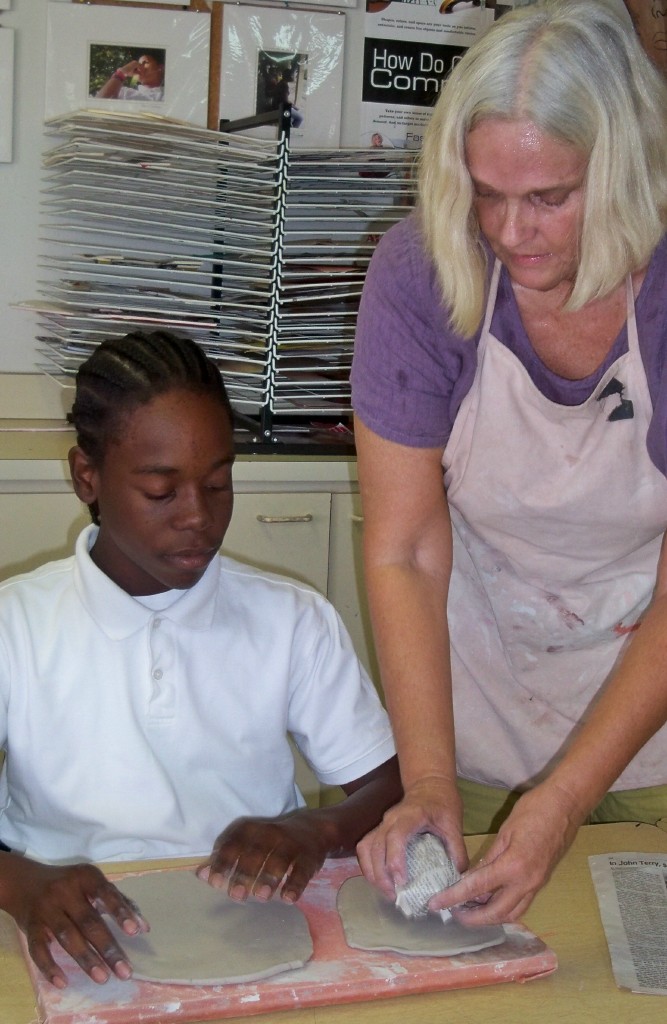 To celebrate Youth Art Month this March, second-year art students at St. Croix Central High School are studying and doing portraiture projects—in both 2-D and 3-D.
In order for students to see and understand contour and facial highlights and lowlights, the students are making clay heads with features. Their art teacher, Kristin Duncan, hopes the project will help them draw portraits.
"Some students are strong with three-dimensional projects and not as strong in drawing and painting," Duncan said. "Working with clay teaches them a new medium, too."
The Head Project began last week under the instruction of Sara Lee Hayes, local ceramic artist. Hayes introduced the students to clay, teaching them to make pinch, coil and slab pots.
On Tuesday Hayes had the 12 students in ninth- through 12th-grade pound, then flatten and roll clay with a PVC pipe to a precise thickness.
Next they draped the clay slabs over newspaper to form 3-D heads. The students then sealed the front and back of the bisque-colored clay with slip (watery clay), then added noses and features. The students worked from pictures they brought in of Martin Luther King, the rapper Drake, relatives and themselves.
.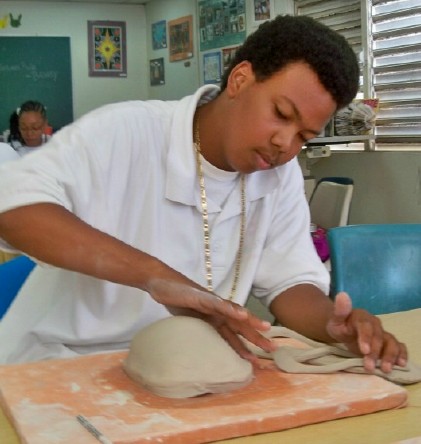 Duncan said Central doesn't have a ceramics program or kiln so Hayes is firing the finished art work in a kiln at her studio.
Hayes said she was on a campaign to educate students about works of art in clay so she went after a grant for $4,000 from the V.I. Council of Arts. Last school year she gave instructions in pottery to 10 schools. This year she is doing the extended clay projects in only two schools, Arthur A. Richards Junior High School and Central.
"The students are really passionate about doing the projects," Hayes said. "The kids are focused and catching on quick. It makes me feel good that they are doing so well."
Shakir Smith, a junior who plans on a career in architecture, said he wants to be good at every medium, so he is pleased to have instruction working with clay. "Working in clay and using my hands will be helpful in my career," Smith said. "This is great getting a chance to work with clay since I draw and paint all the time."
.
Duncan said the students are looking at and studying different portraiture styles through out art history.
"Through this instruction we hope to encourage their passion and evoke their own style of portraiture art," Duncan said.