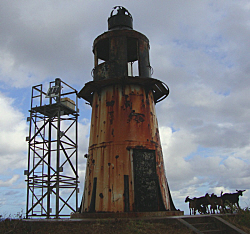 The bad news is that the Ham's Bluff lighthouse has yet to be renovated; the good news is that the U.S. Coast Guard recently erected a new tower and light next to it, and intends to fix up the lighthouse in due course.
The officer in charge of the project, Chief Boatswain's Mate Henry A. Myers, said they were unable to put the light inside the tower because of safety concerns, but eventually, the goal is to get the lighthouse fixed.
"We matched the focal height of the lighthouse, so that when it is possible to renovate the tower, the light can just be moved inside," said Myers.
In early 2010, the Coast Guard Special Monitoring of Applied Resource and Technology (SMART) team deemed the lighthouse tower too unsafe to climb, so they decided instead to erect the metal structure next to the lighthouse to shine throughout the night.
When asked why it has taken so long to do anything about the lighthouse, Myer s said, "We are responsible for over 6,000 square miles, and 11 lighthouses in the Caribbean as well as 126 other aids to navigation."
Myers' team only has two boats to do all this work: one 26-foot trailerable aid to navigation boat (TANB) and one 55-foot aid to navigation boat (ANB). The ANB was built in 1977 and has been unusable for the past year and half, so it's been difficult to get any work done.
However, with Friends of the Lighthouse bringing public awareness to the lighthouse, it seems that things are beginning to look much better. The lighthouse is being considered for listing under the National Register of Historic Places, and once it is slated for final General Services Administration (GSA) disposal, it will be possible for nonprofits or other organizations to bid on renovating or restoring the lighthouse.