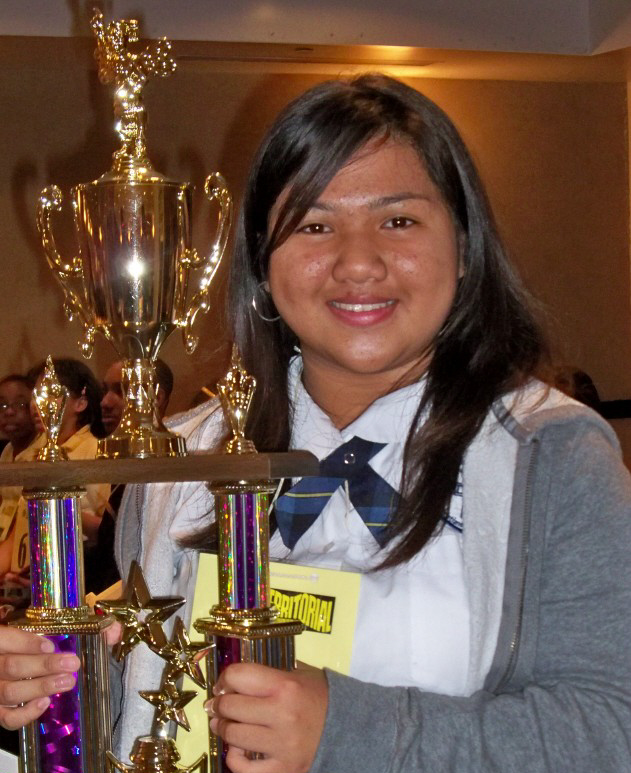 The 2011 Territorial Spelling Bee was an emotional nail-biter for some students and parents. But Justine Arevalo, who emerged as champion, appeared amazingly cool, calm and collected throughout the competition. She went through 29 rounds for the win, correctly spelling "spurious" as her final word at Divi Carina Bay Casino conference room.
"I'm overwhelmed," Arevalo said. "I am glad to have made it this far. I'm really, really happy to be representing St. Croix."
Arevalo, an eighth-grader at St. Mary's Catholic School on St. Croix, went back and forth for 11 rounds Friday with Marcu Norkaitis, a seventh-grader at All Saints Cathedral School, St. Thomas.
Norkaitis appeared nervous, wiping his palms on his pants, mopping his brow and bouncing his legs while seated. But in the end he was very gracious, wishing Arevalo luck in the national competition June 1 in Washington, D.C.
"I feel we all did a good job," Norkaitis said. "We are all champions making it this far at the territorial level."
Justine's mom, Joann Arevalo, said she was afraid to come watch the bee, thinking she couldn't handle the stress and tension.
"I am thinking now, it paid off that I came to see her win," she said, wiping away tears. "I'm so happy."
Third-place winner Maen Yusuf, from IQRA Academy, was pretty slick, walking up to the microphone more than a dozen times and spelling the word right off the bat with no requests.
Students competing from St. Croix were Raheem Knight, Elena Christian Junior High; Kylah Braitewaite, Evelyn Williams Elementary; Michael Doliotis, Church of God Academy; and Imani Evans, Pearl B. Larsen Elementary.
From the St. Thomas-St. John District competitors were Quelania John Baptiste, Gladys A. Abraham Elementary; Dy'Lante DeHaarte, Lockhart Elementary; Jalezcia Smith, St. Thomas Calvary Christian Academy; Silas Wisehart, VI Montessori and International Academy; Marcus Norkaitis, All Saints; and Aja Scott, Bertha C. Boschulte Junior High.
Arevalo, one parent and her coach, Cecilia Payne, get an all-expense paid trip to the Scripps National Spelling Bee in D.C., in June. Arevalo also gets a savings bond.
All 12 participants got a certificate and gift bags with Scrabble and Trivia games. First and second place winners got a huge trophy, others got a glass star trophy and St. Mary's School received a trophy.
The V.I. Department of Education and the Virgin Islands Daily News sponsored the bee.