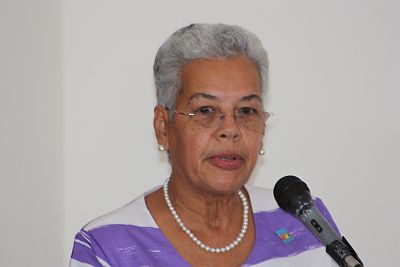 A reduction in child poverty and teen birth rates show the territory is trending in the right direction, but spikes in juvenile crime and the numbers of students still performing below grade level points to the mountain of work still left to be done, said speakers at this year's annual Kids Count conference.
Funded through the Annie E. Casey Foundation, Kids Count is a national initiative meant to provide relevant state and territorial data on the status of children and families. Spearheaded locally by the Community Foundation of the Virgin Islands, the annual Kids Count data book is driven by information collected through various government departments and agencies, along with the V.I. Community Survey conducted by the University of the Virgin Islands' Eastern Caribbean Center.
This year's Kids Count book showcases statistics from 2008 and is backed up by an unprecedented set of expanded data housed on CFVI's website. Most notably, Kids Count Director Judith Richardson highlighted the drop in: child poverty rates from 34.1 percent in 2007 to 28.1 percent in 2008; infant mortality rates from 6.8 percent to 4.3 percent; teen death rates from 122.9 percent to 94.7 percent; and teen dropout rates, from 13.1 percent in 2007 to 10.2 percent in 2008.
And despite the onset of the global economic recession, the median income of V.I. families also spiked during that period, from $42,673 to nearly $44,000.
On the other end, however, the arrest rate for juveniles between the ages of 10 to 17 committing violent crimes — with the majority of the offenses being robbery or aggravated assault — grew by 34 percent, from 79 arrests in 2007 to 106 arrests in 2008.
Teen birth rates and the percentage of children in single-parent households also worsened, while indicators in areas such as education show, among other things, that the territory — where 60 percent of incoming kindergartners are performing below grade level in certain program areas — needs to continue to push learning and foster creativity at an early age.
But in almost all cases, whether positive or negative, the V.I. rates were still significantly higher than the nation's.
Still, that didn't stop the room full of educators, nonprofit representatives, local business people and government officials gathered at Tuesday's meeting from being optimistic about where the territory's children and families are heading — and from pushing one another to do what was needed to make the statistics better.
"There is good news in this report, but yet there are various barriers we still have to break through," said UVI President David Hall, one in a set of panelists convened Tuesday to respond to the report. Going through the facts and figures, Hall gave an impassioned speech on behalf of the territory's children, most of whom he said are crying out as they battle poverty and abuse, or fight learning disabilities that the schools and the community are not equipped to handle.
According to the Kids Count book: 57.3 percent of fifth-graders, 79.3 percent of seventh-graders and 70.2 percent of 11th-graders performed below or "not at grade-level" expectations on the V.I. Territorial Assessment of Learning (VITAL), while 47.6 percent of fifth-graders, 56.3 percent of seventh-graders and 55.9 percent of 11th graders had performed similarly in math.
Hall said other juveniles, those on the "fringes of society," are also crying out, but are "invisible to us until they appear on the pages of the Daily News, charged with some criminal violation," operating under the belief that they are not loved, that they have to survive on their own.
"But at the core of their reality, there is still a child," Hall added, urging the conference attendees to see the children not at a distance, but for what they are and what they need — and to push them toward the path of education, which could help them overcome some of the obstacles they're facing.
For First Lady Cecile deJongh, part of tempering the statistics has to do with making the school environment safer for kids, which means, in part, helping adults to learn and cope with the realities of bullying and the power it can have over a child. DeJongh, through the governor's Children and Families Council, has teamed up with Education on an anti-bullying pilot program already launched in five V.I. middle and elementary schools — an initiative, she said, is in keeping with the council's goal of helping families to provide medical, nutritional and overall early care for every child.
Government anti-gang efforts — where various government agencies have banded together to profile existing gang members and to spread awareness about gang symbols and behavior — coupled with private programs, such as Boyd Todman's Zero Tolerance Basketball League and the My Brother's Workshop initiative run through the St. Thomas Reformed Church by Scott Bradley — are also helping kids to buck the trends, deJongh added.
But the numbers are not only high for middle and high schoolers — according to the Kids Count book, V.I. kindergartners and elementary students, tested within their first year of public school, are also in need of attention.
The Early Prevention of School Failure (EPSF) assessment of incoming kindergartners in the St. Thomas-St. John district during 2008 showed that 60 percent had skills below age or grade-level expectation in receptive language (understanding what others were saying) and visual discrimination (recognizing differences and similarities among shapes and objects). Another 25 percent tested below age-level in expressive language, or the ability to express words or ideas.
"It's at an early time in a child's life where the love of learning starts," CFVI treasurer George H.T. Dudley said Tuesday. Dudley advocated the need for more early childhood education programs and centers, saying that a good daycare ultimately costs less than remedial classes for students at UVI or covering the cost of juvenile inmates within the Bureau of Corrections.
Dudley stressed the importance of children being able to teach themselves, since skill sets and information relevant to today will become obsolete within just a few years.
"If this community is going to grow, we have to have a workforce that is not afraid to change, is willing to learn and is able to teach itself," he said.
Echoing Dudley's message, Ellie Hirsh, director of CFVI's The Family Connection, put out a call for more affordable and higher quality daycare/early childhood education centers.
In 2008, there were 8,830 children in the territory aged newborn to five. Of that amount, 69 percent — or 6,100 — had working parents, but only 3,823 were enrolled in licensed daycare programs. The data book also noted that 400 children were on the waiting list for Human Services' Head Start program, which offers services in both districts.
Meanwhile, the estimated cost of high-quality child care for 185 days is $13,649, while a basic program was about $7,887, with the average cost in the territory at $2,700, Hirsh said.
Richardson said after the conference that in contacting their data providers this time around, CFVI also asked for some expanded information, which can be found on CFVI's website at: http://www.cfvi.net/subpages/kids_count.html.