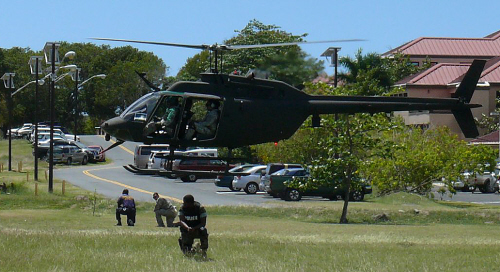 Holding tight and trying not to get sick, some 16 V.I. Police Department officers took turns absorbing gut-wrenching twists and turns in a helicopter flying above St. Croix Friday to see who has the stomach for more airborne training.
Helicopters are tremendously valuable to the police, thanks to their speed, hovering capability and bird's eye view; and thanks to help from its federal partners, police are using helicopters more and more, according to St. Croix Police Chief Chris Howell.
But not everyone is cut out for working in a pitching and turning helicopter far above the ground, Howell said during the training exercise at the St. Croix campus of the University of the Virgin Islands.
"Many get airsick," Howell said. "So we are going to bend, twist and shake them up and see who makes it through.
"I predict about a quarter will move on. I could be totally wrong on that, but past experience would suggest otherwise."
Being comfortable in the air is the one major hurdle for working from the helicopters, he said. "The other stuff we can pretty much teach you," he said.
Before going up, officers spent two hours in training, learning how to approach a helicopter; how to get on and strap in; selecting a landing zone, or LZ, and protocol for securing it for safety, Howell said. The ultimate goal is to increase the number of officers who are able to fly with the department's federal partners as spotters, he said.
Currently, only Howell and one other officer go up in the helicopters as spotters. But, thanks to help from its federal partners, the department is using the vehicles more than ever, for saturated patrols, manhunts, marijuana eradication efforts and more, said Howell. In fact, the department just finished two days of marijuana eradication, with help from the U.S. Drug Enforcement Agency and the High-Intensity Drug Trafficking Area (HIDTA) Task Force, he said.
"We recovered over 2,000 plants in two days," Howell said.
A helicopter was critical in the arrest of alleged murderer Edwin Encarnacion in fall 2010, according to Howell. When police received a tip, a helicopter was dispatched and officers were observing the house were Encarnacion was holed up from the air before he had a chance to get out, and before officers could have arrived by car, he said.
As Howell spoke, the OH 58 helicopter landed as officers on the ground guarded the perimeter of the landing zone with handguns drawn. Two officers hopped out and walked away as two more approached and hopped in.
"The landing gear is the same color green as it was going up. That's a good sign," Howell said.
A massive military Black Hawk helicopter ferried equipment and personnel Friday too, but the training was on the OH 58 "Kiowa" chopper, one of the workhorses of the Vietnam era and still used recently for ground support in Iraq and Afghanistan.
Some of the officers who signed up for the training opportunity have prior experience on helicopters. Officer Sahmantha Simmonds, a five-year veteran of the Traffic Investigation Division and the sole woman among Friday's contingent, had experience on helicopters from active-duty military service in Fort Hood, Texas.
"I'm glad I'm the only woman," she said, before going up. "It's quite encouraging to be working alongside the men and treated as an equal."
Even though she's been up before, she was a little concerned about the twisting and shaking, Simmonds said. "I hope there is a barf bag," she said.
Officer Dirk Marshall had prior helicopter experience from the Marines. "I don't have a fear of flying," he joked, "but I do have a fear of crashing." Marshall, who calls himself an "adrenaline junkie" and has been with the department for 19 months, said he felt the exercise would help both officers and the department.
"The fact the VIPD is such doing this training is going to make us better as a whole," he said.
Those who make it through Friday's exercise will move to more intensive training, spending more time aloft, learning how to spot marijuana, how to use a winch for extracting or for sending down personnel, practicing spotting cars at night and using night vision gear, and more, Howell said.
"I expect in about six months we will have new, trained and certified spotters," Howell said.