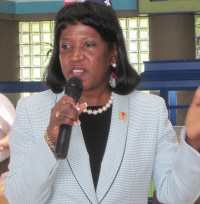 An hour a week for six weeks is all it will take to help Julius E. Sprauve School seventh and eighth grade students get exposure to the world of work through the Junior Achievement program, Cheryl Francis told the nearly two dozen members and guests at the Rotary Club of St. John's weekly Friday meeting. It was held at the Westin Resort and Villas Beach Café.
"There is so much for them to explore," said Francis, wife of Lt. Gov. Gregory Francis.
Francis serves as chairman of the territory's Junior Achievement board of directors.
The volunteers will work in pairs. Francis said that the program at Sprauve School will run from 1:45 to 2:45 p.m., which is the time when social studies classes are in session. The volunteers will work for six of the weeks in April and May. Francis said it was possible to volunteer twice a week for three weeks instead of the usual once a week.
"It's flexible," Francis said.
Many of the territory's children come from families where they're not exposed to the possibilities for their future. Francis spoke at length about this issue, noting that many young people just don't see that there are options for work that mesh with their interests.
Francis said the students have many things to learn. They include budgeting so they'll know how much money it will take to buy a car or a house. She also noted that many students don't know how to read.
Junior Achievement also helps students learn how to be entrepreneurs, a skill many Rotarians have because they own their own businesses. However, Francis said that everyone who works has skills to share.
She talked about the need to deter the territory's children from crime by giving them options for the future.
"When they come into jail, they do not have hope," she said.
Judy Chamberlain, head of school at Gifft Hill School, told Francis that she'd like to have the program at the school.
To volunteer with Junior Achievement, call liaison Bonny Corbeil at 693-5874.