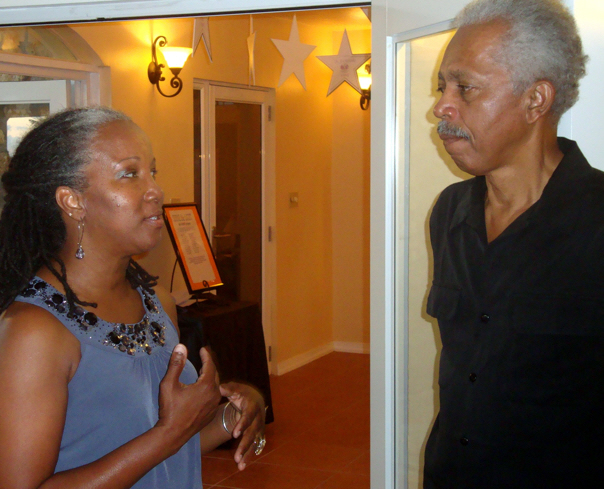 Three decades ago there was no Women's Coalition of St. Croix, but there was a group of people who saw a need, and filled it. Eight of that original group were on hand Saturday at the Queens Quarter Villas to celebrate the coalition's 30th anniversary.
"In the early days we were really a kitchen table organization," said Carol Battuelo, one of the founding members. "We had no place to meet, we had no office, so we met in people's homes, at the kitchen table or the coffee table, wherever."
There were some who questioned the need for a "women's group," suggesting unkindly that they were meddling, or that they were "anti-men." But they weren't going to be stopped, and the group has grown into a mainstay of the social service network on the island, with a staff of 32, an army of volunteers, and five buildings, including a shelter home for battered women.
The Women's Coalition of St. Croix serves thousands of people a year, providing temporary safe housing, emergency aid, and food and clothing to victims and their children. It sensitizes police, hospital and social service personnel to the needs of victims through specialized training seminars, provides crisis intervention services and counseling for victims in both English and Spanish, trains volunteers to serve as advocates for victims in crisis, and conducts self-help support groups for women in crisis.
Retired library director Wallace Williams attended Saturday's gala to offer some history and introduce the eight surviving founders who are still on St. Croix. He said when they started, he didn't know if they'd be able to survive. But he saw their dedication.
Because they had no space of their own, Williams let them have their meetings at the library. A recreational runner, he would often go for his daily run at the close of business, at 5 p.m. "And when I'd get back, they were still going at it," he said. "They were serious."
Saturday's dinner and dance also included a silent auction to raise funds for the group. Reflecting the theme, "Shining a Ray of Light on the People of St. Croix," the auction featured a series of table lamps designed and decorated by local artists. A range of other donated gifts, including sailboat excursions, art and jewelry, were also available to be bid on.
Live music was provided by the Eddie Russell Quelbe/Latin Jazz Band.