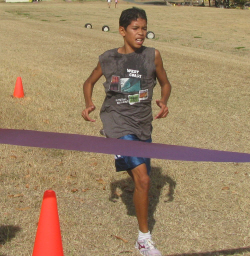 The first ever V.I. Triathlon Federation Kids Triathlon attracted many of the best young athletes on St. Croix to Cramer's Park Saturday morning to compete in the race.
The four different age groups consisted of 27 participants — five more than last month's duathlon at Altoona Lagoon. The athletes ranged in ages 5 to 15 years old and they all had to swim, ride bikes and run.
"It has been a long time coming – a lot of talk and lead up, but we finally got the kids triathlon going," said Rodger Hatfield, who has been participating in triathlons for 25 years and is also a member of the VITF.
Kids started the races by running off the beach into the ocean and swimming along the guided path. Then they had to run to the park entrance barefooted so they could put on their shoes, collect their bikes and ride out on the street that had many challenging hills. Finally, they ended the race by running along the outside of the park's grassy area that was a quarter mile long.
"The kids have been waiting for a triathlon after the past running and swimming events," said VITF member Barbara Dean. " It helps build integrity and the pride they feel when they finish the race, the sense of accomplishment is what it is all about."
The crowd was filled with supporting parents cheering on the athletes as they competed with everything they had. One young girl wasn't happy with her mother after realizing she had to run one more lap around the park, but with her mom giving her positive encouragement she finished the race strong.
"Triathlons are not fun — they are rewarding," said Hatfield, and that is definitely what the kids are finding out at a young age.
The 5-6 year old age group had five competitors that had to swim 25 meters, bike a half mile and run a quarter mile. Some of the kids still had training wheels, but the parents were there hustling, running right behind them the entire time making sure they didn't fall down.
First place went to J.J. Klempen with a finishing time of 10:37; he was also the smallest competitor of the day. Second place went to Charlotte Halk, 10:40, and third place Odin Andrews clocked in at 11:20.
Six kids started off the 7-8 age group race in which they had to swim 50 meters, bike a half mile and run a quarter mile. Natalia Kuipers came in first place with a time of 11:56, Cooper Crowther in second place at 12:35 and Aislin McStay finished third, 13:37.
The largest group and the closest race of the day was the 9-11 year olds with 13 kids. Their race was made up of swimming 100 meters, biking one mile and running a half mile.
Shawna Dean, who finished third place in the duathlon in February, finished in first place this time with a time of 21:21, while Jett Blaschka who won the duathlon last month finished in second only six seconds behind Dean at 21:27. Third place Alec Kuipers had a time of 21:59.
The final race of the day was between three competitors in the 12-15 year old age group in which they had to swim 200 meters, bike three miles and run one mile. Adriel Sanes, 12, who is undefeated in VITF kids events won this race with a time of 45:00, while Ryan Aloyo time of 52:51 gave him second place.
When asked if the triathlon was more difficult than the previous events Sanes replied, "It was harder – we had to swim a lot more and biking was hard because of there are a lot of hills." The 6th grader from Good Hope School has a bright future ahead as he said he is going to keep competing in future events.
Since this was the first triathlon for young kids the VITF took no chances and had three St. Croix Rescue Squad members on-hand along with an ambulance, but everything went well so they were able to enjoy the event also.
"It is always amazing to see the kids run," said three-year rescue member Ingrid Jackson.
30 volunteer also came out to help with the first ever triathlon. Some were posted around the course guiding the kids as they swam, rode and ran around.
A group of high school students from Niagara Christian Community School in Ft. Erie, Canada are only on island for the week, but found time to help out for the event. Justine Keefer, 15, said she was enjoying watching the young athletes because, "All the kids are so happy."
The high school volunteers were handing out water and Gatorade as the kids ran past, but most them missed their mouths while trying to run and drink at the same time.
The VITF is always looking for more donations to help out in these events, such as bikes, helmets and prizes. Saturday, six donated bikes were being used by competitors.
Each kid received a white participant ribbon along with a gift back from Road ID that consisted of fruit snacks, water bottle holder and a Virgin Island t-shirt. The top three racers for each group received VITF t-shirts and a $15 gift certificate to RoadID.com. VITF is looking for sponsors to donate prizes for next month's triathlon.
The next kid's event is the Splash N' Dash on April 10th at Cheney Bay and April 30th St. Croix Kid's Triathlon at Cramer's Park. The fee is $5 per athlete and more information on these events can be found at VITF's website, http://www.vitf.org/.