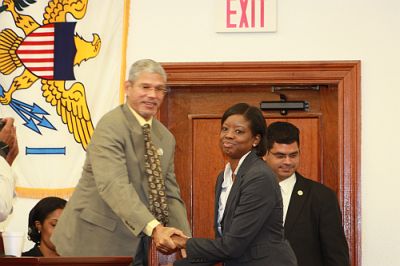 After just a few hours filled with praise for their accomplishments and abilities, senators unanimously confirmed Alicia Barnes as the territory's new Planning and Natural Resources commissioner and Elton Lewis as the new man in charge of the V.I. Territorial Emergency Management Agency.
Sitting in the audience during Wednesday's morning session, Barnes nodded and smiled along with senators as they addressed her directly from the well, offering everything from congratulations to some words of wisdom for her new position. At times their conversations even turned personal, as senators recalled Barnes as a child growing up on St. Croix.
"Your professionalism and demeanor is just….classy," Sen. Sammuel Sanes said to Barnes during the session. "That's the only word that describes it — pure class."
A former classmate of Barnes, Sen. Shawn-Michael Malone said the new commissioner had the youth and energy to take on the job, along with the experience needed to hit the ground running. Barnes had previously worked in DPNR as assistant commissioner, which Malone said has alerted her to the need for thoughtfully balancing environmental preservation with economic development.
"She's a little rough, a little snappy," Malone added, saying that he recently had a private meeting with Barnes to talk about her nomination. "But I was quite moved by her vision when it comes to management."
Of course, various senators had their own thoughts on issues they said Barnes should address on the job. While Sen. Alvin L. Williams asked her to adopt a strong position on enforcing the territory's beach access laws, Sen. Nereida Rivera-O'Reilly said that the territory's air quality issues — particularly on St. Croix, with Hovensa — should also be a top priority.
Sen. Louis P. Hill, meanwhile, advocated for the passage of a comprehensive land and water use plan — a document that has long been talked about by local activists, but has languished on the back burner for decades as every "governor since Gov. [Alexander] Farrelly has failed to pass it," he said.
"Wouldn't it be an accomplishment if you're the one to finally get it done?" he asked Wednesday. Hill said that Barnes' tenure would be a challenging one, as the territory faces a number of environmental threats, but, like many other senators did during the session, offered up any assistance his office could give.
Barnes showed her resolve as she came up to the microphone after the vote, telling senators that she is "committed to excellence and integrity."
"I thank you for your encouragement, your words of advice and even your constructive criticism," she said.
Lewis also received rounds of praise Wednesday, as senators spent most of their time defending Lewis against what they described as media attacks by the V.I. Daily News about his allegedly lying about a false degree.
Whether it's true or not, what matters is the man's character and experience, senators said in succession, as they paved their way to the unanimous vote that came down shortly after. Keeping the debate positive, many also discussed Wednesday's territory-wide tsunami drill, and said that Lewis had the military and strategic skills needed to stay on top of emergency management in any disaster.
"He's going to take us to high grounds, to new levels when it comes to security," said Sanes, chair of the Senate's Public Safety, Homeland Security and Justice Committee. Lewis was V.I. National Guard director of the joint staff, prior to his new post and also V. I. Police commissioner for four years, from 2003 to 2007.
At a recent Rules Committee hearing, Lewis spoke about continuing efforts started by former VITEMA head Mark Walters to install a territory-wide tsunami warning system and said that VITEMA has already purchased 10 sirens that give a warning tone audible a mile away and voice warning intelligible at up to 2,000 feet.
Rules Committee chair Sen. Usie R. Richards said Wednesday both Barnes and Lewis more than met senators' expectations and qualifications.
All senators were present during Wednesday's session.