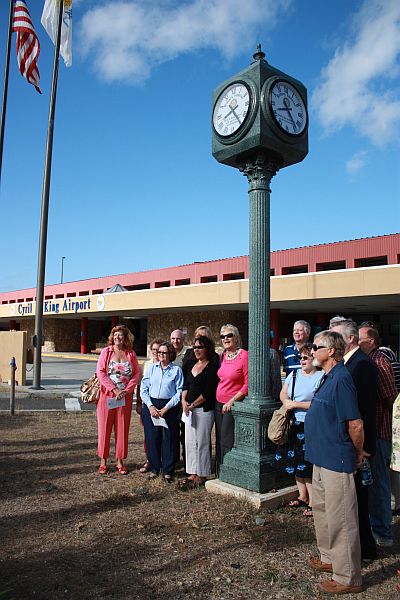 Commemorating Rotary International's Centennial Celebration, local Rotarians gathered at Cyril E. King Airport on St. Thomas Tuesday to unveil a four-dial clock they have donated to the V.I. Port Authority.
The 20-foot-high clock cost in excess of $25,000 and was paid for through Rotary fundraisers and individual donations. According to Tom Bolt, founding president and centennial project chair of the Rotary Club of St. Thomas Sunrise, the clock serves as a reminder of Rotary's presence here in the territory and displays on each face one of the club's four guiding principles, or four-way test.
The centennial clock stands beside the flagpoles near the airport's parking lot, which Rotarians said puts it in full view of residents or visitors both coming and going from the territory. The clock also showcases the Rotary emblem, uses GPS synchronization and is illuminated at night.
Rotary International's District Governor Diana White, who was present at the ribbon cutting, said the erection of the club's clock on government soil also represents a "great partnership" between the two entities.
"So as millions of people come into this airport, they will know Rotary is alive on St. Thomas," she said.
Airport Manager Jose Nazario was on hand Tuesday to accept the donation on behalf of the V.I. Port Authority.