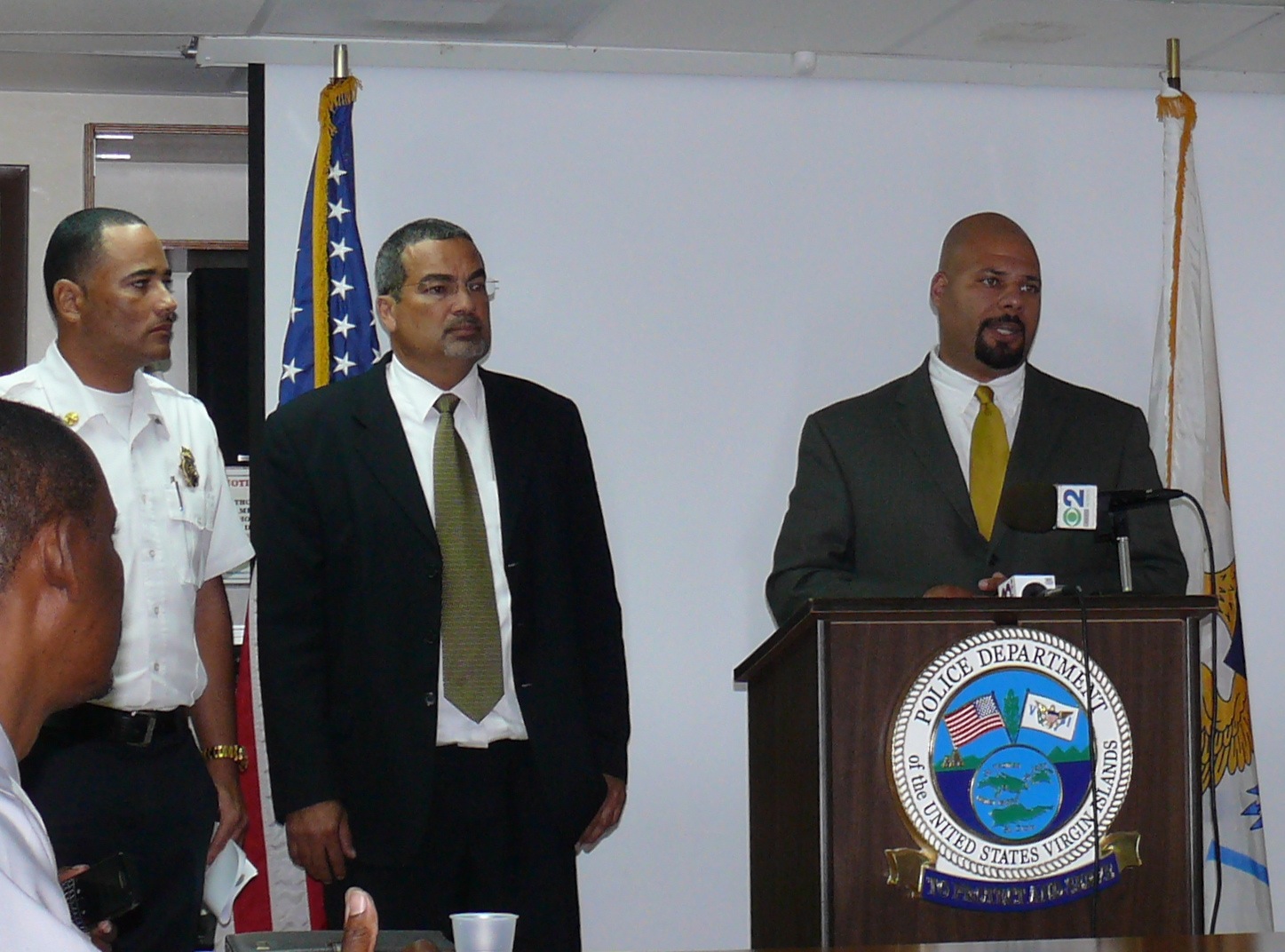 Fire, Health and Licensing agencies joined the V.I. Police Department on saturated patrols Friday and Saturday on St. Croix, raiding bars and restaurants, shutting down six and citing others for an array of health, licensing and safety violations.
Many of the citations were for violations in Dominican-owned bars on Queen Street in Frederiksted, leading some owners to complain about being singled out.
However, at a press conference about the raids Monday in Police headquarters at Mars Hill, police said they were simply responding to community complaints and that the only businesses shut down were unsafe to remain open.
St. Croix Police Chief Chris Howell said the decision to bring licensing and other agency officials with them on their regular weekend saturated patrols last Friday came about after a three-hour meeting with Frederiksted residents March 30.
Town residents complained about firearms being discharged, public urination, run-down buildings, open prostitution, people parking in yards and other problems, Howell said.
"The one thing they had in common, they felt a number of bars on Queen Street were the source of the problems," he said.
"This is broken windows 101," he said, referring to the law enforcement precept that if law enforcement tolerates small crimes, larger crimes will continue to flourish; but if it enforces all the laws, it creates an environment where less crime occurs.
While the raids had a large impact in Frederiksted, they occurred throughout St. Croix. Two restaurants were temporarily shut by the Health Department for health code violations.
"Most of the businesses were in compliance," said Health Department spokeswoman Eunice Bedminster. "H2O and La O'rguida Bar were cited for unsanitary conditions; and also La O'rguida Bar was unable to produce documents such as health permits for all its employees." Bedminster added that those businesses in violation will be reinspected Tuesday and will be allowed to reopen if they meet V.I. health requirements.
Four Frederiksted businesses were closed and the power shut off for safety reasons, said Phillip Smith, director of permits for Planning and Natural Resources.
"Four had beyond-belief electrical problems," Smith said. There were exposed wires at outlets and junction boxes, even some evidence of fires in the junction boxes, and service that was inadequate to the size and scope of the business, he said.
"In some cases it was so egregious, we felt it was an immediate threat; and that is the reason they were closed," he said. Some buildings had serious structural problems too, he said.
"In one business, there was about a 10-to-15-degree pitch to the second floor, which housed about 16 of these small rooming-type rooms—you can imagine their use," Smith said.
Several of the bars had numerous small rooms, some with roofs patched with tarps, some with faulty electrical work, and some with no good means of exiting if there were a fire, he said.
Licensing and Consumer Affairs Commissioner Wayne Biggs said each business was licensed to operate at some level, but many were cited for not having the correct licenses, such as for running a nightclub with only a bar license, or—as was the case with several businesses—building apartments onto a bar. Aruba Bar, El Rincon Latino and La Condia were among the Queen Street bars cited for operating an apartment house without the proper license, Biggs said.
Responding to radio and newspaper criticism that the raids were heavy-handed, Howell said police had been called to some of the establishments before for fights and for gunplay, and police had to be prepared to take control of the situation.
"Given the totality of the situation, the show of force was necessary, and I wouldn't change anything," said Howell.
Outside the police station after the press conference, the owners and family members involved with Aruba Bar said they felt they were unfairly targeted.
"There was no notice; they just cut the power," owner Luisa Esperanza's daughter, Daisy Tejeda, said, translating for her mother. "We just got our licenses last month," Tejeda added for her mother, showing a recently renewed business license, health inspection and fire inspection.
"I asked the inspector why he cut my power and he said, if the bar caught on fire, that would be a lot worse," Tejeda said. She was also upset about food spoiling from the loss of power, she said.
She said it bothered her the raids only seemed to target some bars too.
"They only went to the Santo bars, not the white bars or the local bars. You did not see police at the Lost Dog or anything," Tejeda said.
No businesses were closed unless they were not safe to keep open, Smith said during the press conference. Citation letters were distributed to all the business owners Monday, DPNR spokesman Jamal Nielsen said.