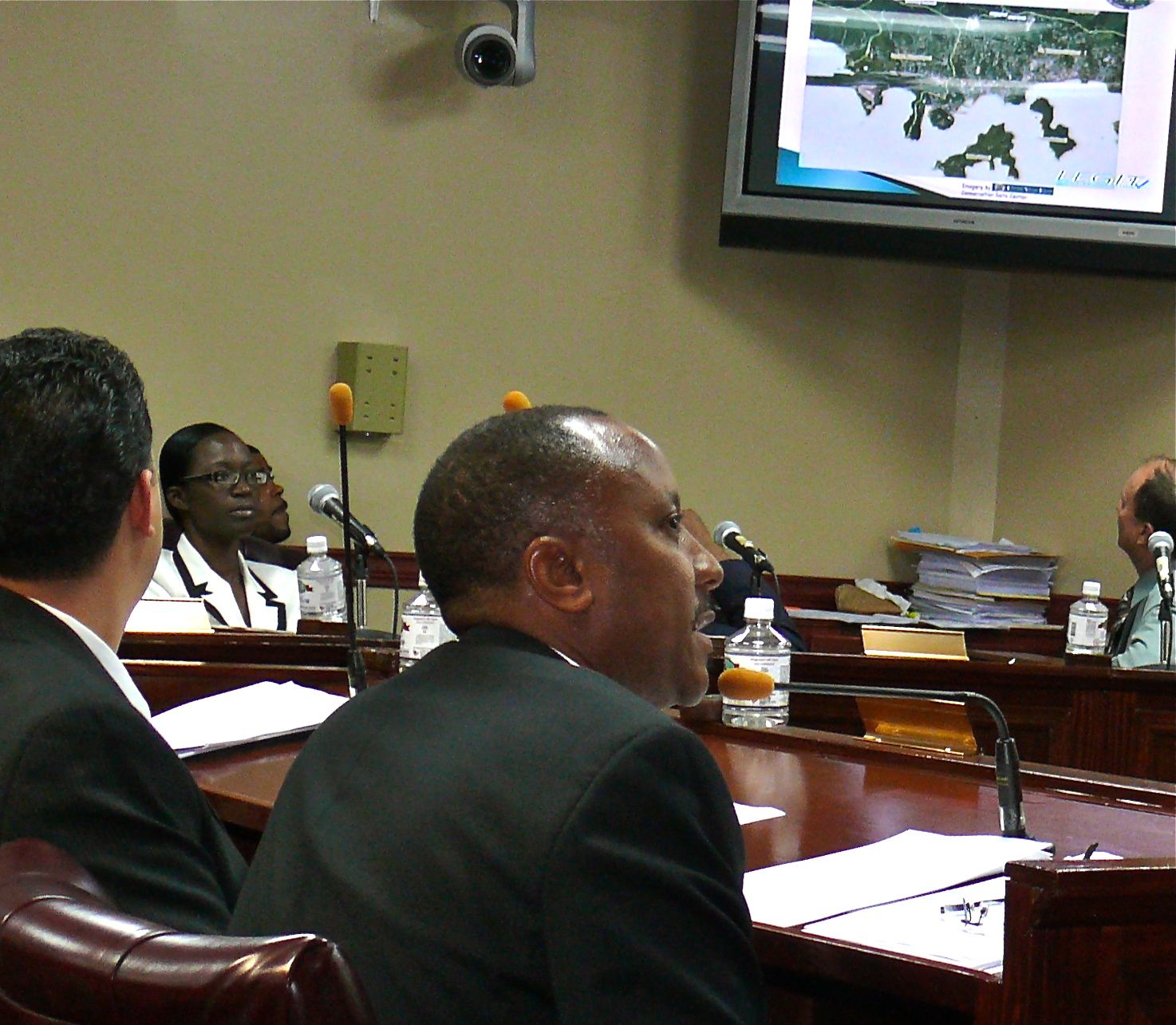 Still cleaning up from last fall's floods, Public Works is behind the eight ball as it pushes to clear and prepare the territory's drainage guts and swales before the fast-approaching hurricane season, officials said at a Senate hearing on hurricane readiness Wednesday.
The floods triggered several landslides near new construction that had to be cleared, said Public Works Commissioner Darryl Smalls at the Frederiksted meeting of the Government Operations, Energy and Veterans Affairs Committee.
The storms brought large amounts of yard debris into the guts, along with junk and trash—from broken appliances to bedding—dumped in the guts by residents, he said.
With just under two months until the beginning of the season, the department is plugging away at the cleanup, removing debris, but trying to leave living grass and brush, to help control erosion, he said.
Smalls said Wednesday that "not more than 25 percent" of the critical guts have been addressed so far.
"The rains of late 2010, we are continuing to clear a lot of that debris," he said.
Junk dumped by residents who are not taking their waste to the proper dump sites is slowing the work, he said.
More broadly, the department has completed several major drainage and flood control projects in recent months and several others are ongoing, Smalls said. Some critical projects still need funding, including work in La Grange, Gallows Bay Spring Gut, Coki Point, Bolongo Bay, Nadir and Coral Bay, he said.
Sen. Alicia "Chucky" Hansen, the committee chair, asked about heavy sedimentation in the gut leading into Gallows Bay on St. Croix. Smalls said it was a product of how the gut was designed and had to be periodicallycleaned.
Officials from the Waste Management Authority, Human Services and other departments updated the committee on their ongoing preparations for the upcoming storm season as well
Human Services has inspected primary shelters on all three islands and is doing training, said Assistant Commissioner Kimberly Causey-Gomez. As hurricane season approaches, they will be supplying Meals on Wheels clients with emergency food supplies and will follow up with clients as soon as possible after a storm, she said.
The V.I. Waste Management Authority is getting emergency backup equipment like emergency generators, portable diesel and electric pumps ready for operation, said WMA Executive Director May Adams Cornwall. Pre-approved contracts for extra bins, cleanup before and after storms and potential emergency sewer work will be completed by June 1, she said.
In other business, the committee heard testimony on a bill to expand veterans benefits, then held it in committee pending a quorum. The bill would increase the burial benefit for veterans in the territory from $3,500 to $5,000. It would also provide tuition and financial benefits to veterans attending the University of the Virgin Islands, with costs paid by the V.I. government, and expand the definition of "veteran" to included members of the V.I. National Guard who served more than eight years, giving them the same benefits of U.S. armed forces veterans.
Hansen was the only senator present at the hearing, so the bill was held pending a quorum.
Absent were Sens. Celestino White Sr., Ronald Russell, Janette Millin-Young, Terrence "Positive" Nelson, Usie Richards and Alvin Williams.