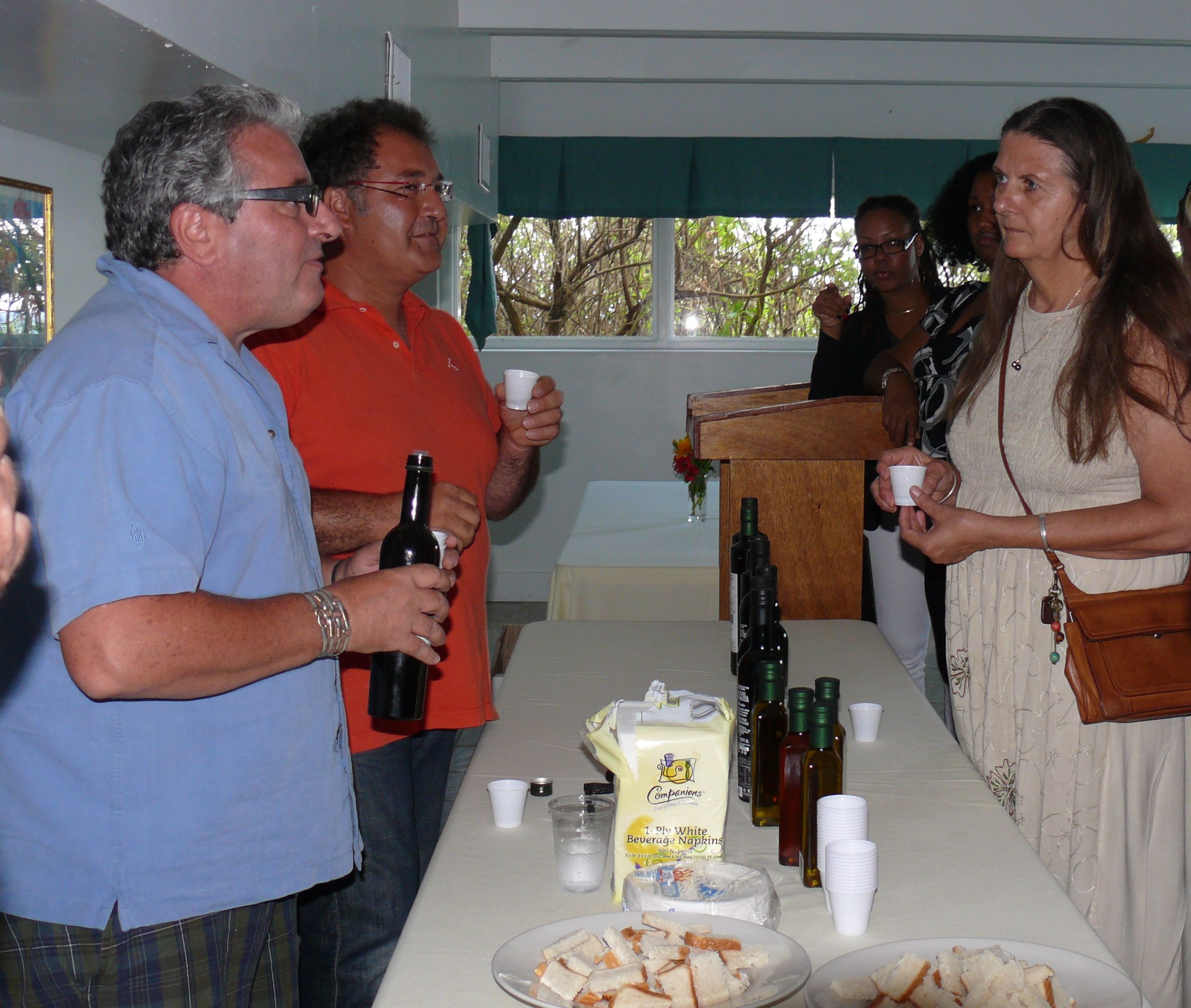 Harvesting olives before peak ripeness, avoiding bruising and pressing quickly gets the best flavor, artisanal olive oil maker Massimiliano Montecchia told a St. Croix Food and Wine Experience class of aficionados Wednesday at the Palms.
Fine food and wine are central to the St. Croix Food and Wine Experience, the hugely popular annual St. Croix Foundation fundraising culinary extravaganza going on right now.
Rather than look at the final, elaborate creations of talented chefs, Wednesday's seminar paid homage to the importance of using the highest quality, freshest, most flavorful ingredients in ways that bring out their distinctive characteristics.
While Mary Elacqua of the Italian V.I. Trading Company translated, Montecchia, of the family-run Frantoio Montecchia artisanal olive farm and oil press, spoke in Italian about what made one oil better than another, what factors affected the flavor and how they influence his company's methods and their selection of very high-end artisanal oils.
Producing oil from their own olives since 1925, Frantoio Montecchia has striven in recent years to improve its oils by adapting the oldest, simplest methods to modern technology, he said. They grow all their own olives, to make sure they are treated well and are all healthy.
With all their oils, they use as few pesticides and other chemicals as possible on the trees, and none at all for the last month before harvest in the fall, he said. Along with some blended extra virgin olive oil, Frantoio Montecchia makes a series of oils from specific plots of land, much as wines in Europe often come from legally designated plots of land. One of their oils is produced entirely from certified organic olives.
To get the best oil, the olives have to be picked when they are between green and black in ripeness, so they have the optimal amount of polyphenols, he said through his translator. The polyphenols help to preserve the oil as well as affecting the flavor, he said.
Soon after olives are picked, they begin to ferment inside, which will affect the flavor and can spoil the oil, he said. Any bruising of the olives makes them ferment much, much faster, so pristine, fresh olives are best, and the sooner the olives are pressed the better, he said.
Variety matters too, and along with traditional culinary varieties, Montecchia makes some oils just from olives from very old tortiglione olive trees. The heirloom variety is difficult to come by and is often planted as a decorative tree, because it takes a long time to mature and bear fruit and is not as prolific as younger trees of other varieties, he said. But they have a subtle and distinctive flavor not found in other strains, he believes.
Extra-virgin olive oil is extracted by physical pressing, with no chemicals or cooking. It has a higher acidity and keeps better as well as tasting better, Montecchia said. Cold-press olive oil refers to the olives: Once the olives begin to ferment, their temperature rises, he said.
Most oils are made by pressing the olives, pits and all. Montecchia makes a light, or "delicato" olive oil by pitting some olives before pressing. Commercial "light" olive oils are usually made by chemically treating the oil, he said.
After Montecchia spoke, the half-dozen food aficionados in the class tasted several of his varieties. All but the delicato oil were rich and flavorful to the point of being spicy and peppery, with slight differences in tone; some more twiggy in flavor, others more floral. The delicato too had a lot of flavor, but toned down, mellower and a little sweeter.
Speaking after Montecchia, Elacqua, a medical doctor with a practice in New York, added olive oil has an array of health benefits, from lowering blood cholesterol to reducing rates of colon and breast cancer. It is filled with oleic acids, which help the stomach absorb calcium, and has omega-3 fatty acids, which are good for the nervous system, she said.
Also, the types of fats in olive oil help prevent the buildup of cholesterol plaques in the arteries.
More mundanely, olive oil is good for the digestion and has been used to help moisturize and heal skin for millennia, she said.
Montecchia oils are sold through Italian V.I. Trading, and are available at most of the larger supermarkets and gourmet stores on St. Croix.