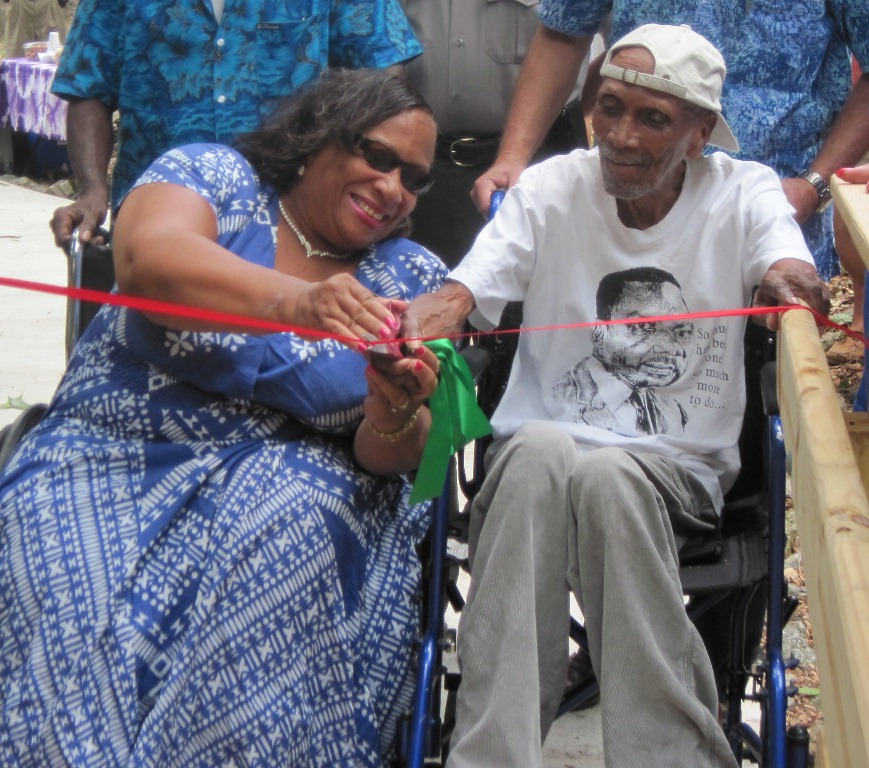 It's official. The new 610-foot accessible trail through V.I. National Park's Cinnamon Bay ruins, already in use for several months, was dedicated Wednesday with the cutting of a red ribbon and remarks by various officials.
"It couldn't be in a better location right here in the busy part of the park," Deputy Park Superintendent Mike Anderson said to about 50 people on hand for the ribbon cutting.
The trail, with some sections in concrete and some in wood, starts right along the North Shore Road and across from the entrance to Cinnamon Bay Campground.
This is the second accessible trail in the park. The first, at Francis Bay, was dedicated in September 2009.
Friends President Joe Kessler spoke about the efforts of Friends volunteers to make the trail happen. He said that it took more than 600 volunteer hours to complete the project. Crews worked for 13 days over the course of two months moving $7,000 worth of lumber donated by MSI on St. Thomas and hammering nails to complete the wooden portion. Kessler said the Friends bought the rest of the lumber and the fasteners. He also said the Friends had a contractor do the concrete portion because it took specialized skills.
Additionally, Kessler said that the accessible trail cost about $47,000 in cash and in-kind donations, with the St. Croix-based Diageo USVI funding $35,000 of the project.
The Friends efforts to develop accessible trails have roots in a conference held six years ago at Maho Bay Camps called Building a Destination for All. Rosanne Ramos, who now lives on St. John and runs Inclusion by Design, was involved in that project, as well as the accessible trail. Kessler gave her kudos for making sure the trail was actually useful to those with mobility issues.
"St. John is ahead of the curve when it comes to the Caribbean but behind when it comes to the states," Ramos said.
Janet George-Carty and Guy Benjamin, both in wheelchairs, cut the ribbon. George-Carty said that St. John has a long way to go when it comes to accessibility. She said the curb cuts are too far apart, there aren't enough handicapped accessible parking spaces, and the new parking lot at Enighed Pond Marine Terminal is covered in gravel that isn't wheelchair negotiable.
Abigail Hendricks shepherded a group of seniors from the George Simmons Terrace senior center. She welcomed the accessible trail, but like George-Carty, pointed out that many parts of St. John are not in compliance with laws concerning accessibility.