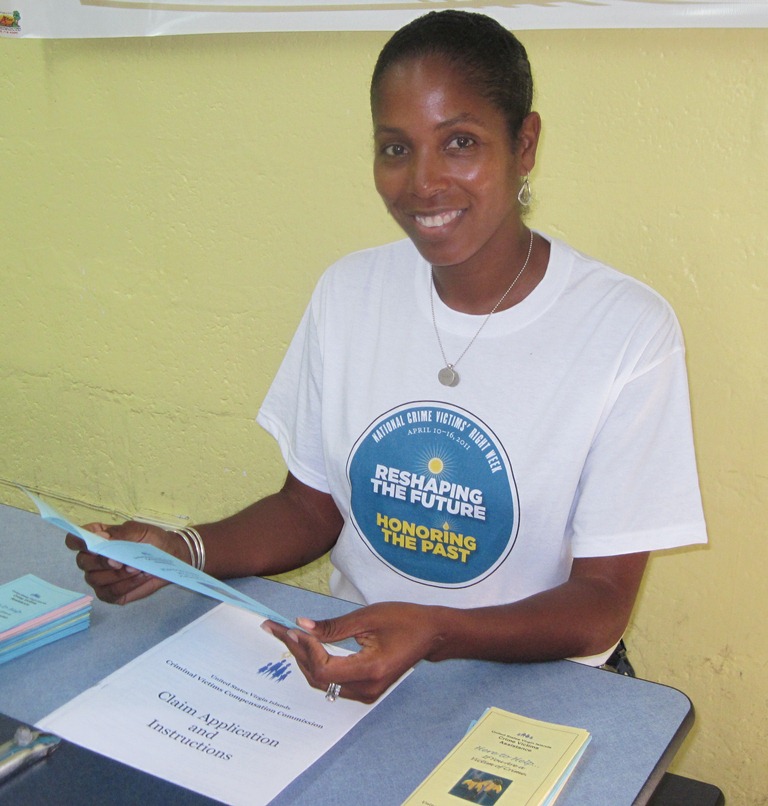 Innocent victims of violent crime or their families are eligible to receive funding to pay for medical expenses or lost wages.
"And we pay for pain and suffering and for counseling services," said Nataki Richards, who is the territorial administrator for the Criminal Victims Compensation Commission.
In the case of a homicide, money is paid to the spouse and dependent children and for a funeral.
And tourists who are victims of violent crime are also eligible for compensation, Richards said.
Richards spoke to the Source Friday at a Criminal Victims Compensation Commission informational fair held at Julius E. Sprauve School on St. John. According to Richards, the commission made payments to four people for St. John-related crimes in 2010.
The program is federally funded through the Justice Department and administered by the Human Services Department. Friday's informational fair was held in conjunction with National Crime Victims Week. Activities were also held on St. Thomas and St. Croix.
Barbara Dalmida-Thompson, office manager at the St. John Administrator's office, spoke about the need for the Crime Victims Compensation Commission.
"We need to remember that not everything is perfect in our society and improve upon it," she said.
Crime Stoppers USVI also put in an appearance. Andy Rutnik, a member of the St. John Crime Stoppers organization, said that the program has helped encourage people to make anonymous tips. "The number of tips that have been coming in is larger than ever before," he said.
He did not know how many had been received on St. John since the program started several years ago.
Iris Kern, who serves as a special advisor on sexual assault and domestic violence at the Justice Department and the Police Department, said she's working to implement standard policies and procedures for crime victims throughout government agencies.
"We hope to have that policy in place during this administration," she said.
Kern called for a change in the law that mandates only 26 weeks of interventional classes for first-time domestic offenders. She wants a year's worth so the program will really make a difference.
Call the Criminal Victims Compensation Commission at 774-1166 on St. Thomas and St. John and 718-1612 on St. Croix. Reach Crime Stoppers at 1-800-222-8477.