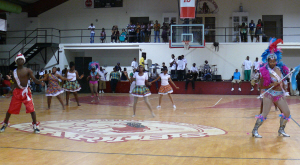 With educational displays, calypso, masqueraders, dancing, mocko jumbies, traditional pastries and candies — and appropriately, more than a splash of madras — students at St. Croix Central High School celebrated diversity at the school's cultural fair Friday.
"The cultural fair is about bringing together and celebrating all the different cultures than make up our richly diverse school," said Ericka Hansen, chair of the social studies department, which has put on the annual fun day for 18 years now, according to Hansen.
Hansen's sociology class performed as traditional masqueraders, in costumes and masks they made themselves, she said. Asta Williams, a storyteller, musician and Crucian culture advocate from Frederiksted, helped teach the class how to create the costumes and masks, Hansen said. Williams told the class masqueraders used to come down the street first during carnival to clear any evil spirits off the path.
The school's culinary program students served up traditional cakes, pastries and candies to the students, and National Art Honor Society students painted faces.
Students form several St. Croix elementary schools came and performed dance routines. There were skits, original poetry, modern dance routines and a cultural fashion show.
A Spanish class had a table set up with projects and information about Venezuela and the school's Anthropology Club had one for the West African nation of Ghana. The club is trying to raise money for a class trip to Ghana later this year. Anyone who wants to help the students get there can call the school at 778-0123 or club president Tricia Andrew's cell at 244-7114 and arrange to make a donation.
The pomp and ceremony, the music, entertainment and food were all served up by students. The marching band played, filling the gymnasium with the beating of drums and the sounds of brass. Central's Jr. ROTC Color Guard posted the U.S. and V.I. flags and Jr. ROTC armed and unarmed drill teams performed routines.
The food, music, madras and masquerading were all new to a group of high school juniors and seniors from the Urban Science Academy in Boston, Mass. visiting the territory on a cultural enrichment an community service trip. The 11 students took time out from working with Crucian History and Nature Tourism, the Christiansted Boys and Girls Club, Queen Louise Home and other organizations to come to Central and learn more about local traditional culture, said Urban Science teacher Melodie Miranda.
The visiting students were having a good time.
"There is a lot of spirit and pride in the culture, said Urban Science senior Esteniol Maitre. "That sort of passion for heritage you don't see every day, especially where we come from," he said.