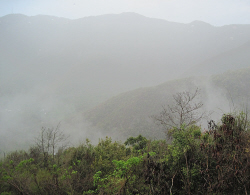 After months of extremely dry weather, it finally started raining in the area Thursday, but dry weather is expected to return by the weekend, according to the National Weather Service office in San Juan.
St. Thomas got a record-setting rain with the NWS reporting 1.99 inches at Cyril E. King Airport Thursday. St. John was getting the bulk of the precipitation Friday with two to three inches expected, said NWS meteorologist Luis Rosa.
However, once an upper level trough lifts out of the area later Friday, it's back to dry weather "for an extended period," Rosa said.
Between midnight and 3 p.m. Friday, Weather Station Zephyr at Ajax Peak, St. John, had 1.47 inches of rain. On Thursday, only .04 inches fell.
According to Rosa, St. Croix had .3 inches on Thursday, and .93 inches between 8 a.m. and 2 p.m. Friday. St. Thomas had .15 inches of rain between 8 a.m. and 2 p.m. Friday.
While some visitors were no doubt complaining about the wet weather, residents cheered as depleted cisterns took on some water.
"We welcome it," St. John resident Robin Clair said. Clair is the manager at Estate Zootenvaal, a small cottage colony outside Coral Bay.
At V.I. National Park Visitors Center in Cruz Bay, Paul Thomas, the park's chief of interpretation, said he had only one comment from a visitor about the weather. "He wanted to know how long was it going to rain," he said.
While the rain was good news on several fronts, it caused some nervous moments in the Coral Bay area as at least one area that slid down to Centerline Road in last fall's Hurricane Otto rains has had some slippage with the latest rain.
"It needs a retaining wall," Clair said of the area.
Another resident reported a 10-foot wide pile of dirt along Centerline Road's edge that had slid downhill in the rain. He also saw big limbs off a tree that fell into Centerline Road.