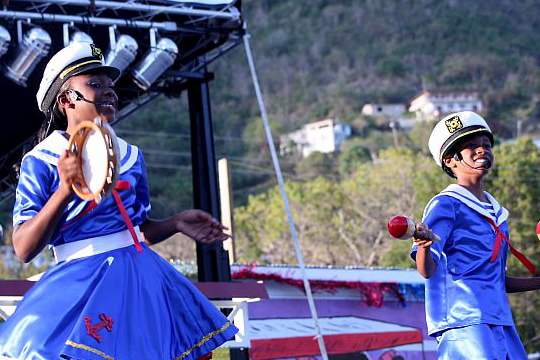 From satin tuxedos to rhinestone tiaras, this year's Prince and Princess Show didn't disappoint the standing-room-only crowd that converged on Lionel Roberts Stadium Sunday for the kickoff to this year's Carnival events.
The packed crowd wasn't the only pleasant surprise of the evening: for the first time in at least two years, the traditional competition featured a full slate of prince contestants, who more than kept the pace with their bejeweled partners through a panoply of musical numbers and segments, including the ever-popular talent competition, followed by a question-and-answer round that allowed them to share opinions on everything from bullying to staying fit.
From the get go, it was clear the crowd had its favorites, but each couple showed its strong points as the competition progressed, and by the end, the results were a fair sampling of the group. It was high points in the evening wear and the question-and-answer rounds, however, that sealed the deal for J'Nee L. Powell and Tyrell S. Richardson, who swept their way across the stage in matching gown and tuxedo like old pros on a grand ballroom floor.
"I'm so excited," Richardson, a sixth grader at Lockhart Elementary School, said after the announcement was made. Left otherwise speechless by the results, Richardson had the crowd screaming a few moments earlier as he was asked during the question-and-answer round what he would do if were a teacher for one day at his elementary school.
"I would have a reading group for those who are weak in reading," he said.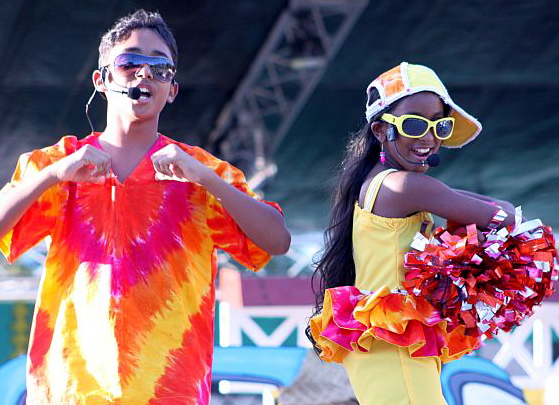 Along with being crowned this year's Carnival Princess, Richardson's Lockhart School classmate Powell also picked up the award for Miss Intellect after choosing "intelligence" over "beauty" when asked which one she preferred.
"Intelligence carries you longer than beauty," she said, smiling in her soft pink, double-tiered gown.
Many other couples also doubled teamed on the awards, including second place winners Daniela L. Joseph and Tyreke L. Morton. The couple's most powerful statement came during the evening wear segment, when they stepped out together in matching yellow and white, which they said in their announcement symbolized their "search for a rainbow," and the treasures of the Virgin Islands.
"It teaches up that we are precious, that we should value and respect each other, and love each other," they said.
The couple won Best Evening Wear and Most Photogenic Couple.
Twins Shakil and Shahina Persad – both sixth-grade honor students at Gladys Abraham Elementary – also won the crowd over from the beginning, as they introduced themselves through song, telling the crowd they "are who we are," in matching tie-dyed outfits. Picking up Best Talent, the duo went on a "musical journey under the Mahogany Tree," where they saluted some of the territory's giants, such as Milo's Kings and Jam Band's Nicholas "Daddy" Friday.
Shakil Persad, whose fingers slid over the keys of his trumpet during the talent competition, also picked up the award for Mr. Intellect after he paid homage to the Prince and Princess Show during the question-and-answer segment.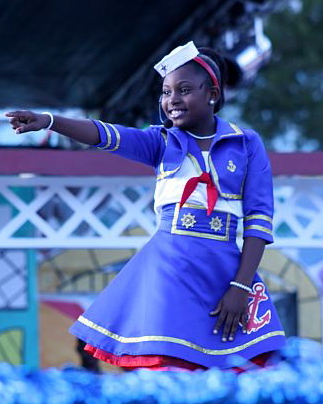 Asked what he advice he would offer a friend thinking about running for prince or princess, Shakil said, "I would tell them to go for it, because competing this year was so much fun, and I learned a lot of about my strengths and weaknesses during the competition."
The twins slid in the third-place spot overall for the competition, while Shakil Persad and Morton tied for Mr. Congeniality.
Other couples participating this year were Chante A. Potter and Joeshawn Clendinen, who won Most Cooperative Couple, along with Kysha A. Abelo and D'Quan J. Daniel.
Potter also won this year's Miss Congeniality Award.