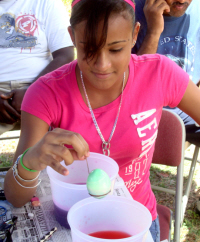 An Easter egg hunt and holiday extravaganza Saturday at the William Roebuck Industrial Park gave more than a hundred children on St. Croix an early holiday and a chance to share something that's common to their lives – the National Guard.
The party was sponsored by the Virgin Islands National Guard Family Program Office for the children of the territory's Guard and Reservists, both Army and Air Force.
"It's a chance for the families to get together," said Merlisa George, who organized this year's event.
VING is such a large organization that many people may know their own units well, but not know many other members, George said. And that doesn't even begin to address their children, who might not know more than a handful of other Guard offspring and thus can't share some of the issues unique to their circumstances.
At Saturday's event some hundred children shared fun and games – and time together. Along with the actual egg hunt, lunch was served for the kids, and there was face painting, a petting zoo, a DJ, a clown, games and egg decorating.
Past years have drawn more than twice the number of children than this year's, George said, but that just points to another issue among Guard families. Two VING units are off island in training, in California and Colorado – and their schedule happened to align with the holiday.
When duty calls, it doesn't look at the calendar, it just calls, and the families that stay behind have to accept it.
At the petting zoo, boys fed the goats while 6-year-old T'Anna Lake worked up the nerve to pet one of the bunnies. She wasn't moved to think that it might be the Easter Bunny itself, but became much bolder when she was asked to teach a reporter how to pet the bunny.
"It's soft!" she exclaimed.
At the egg dyeing area, 17-year-old Gloria Morales was dyeing two-toned eggs, while a proud 5-year-old Javon Benjamin dashed off to display his creation to his parents.
The event began at about noon and ran until 3 p.m.