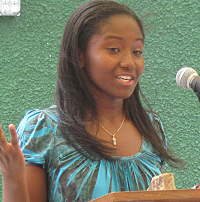 The John's Folly Learning Institute had reason to celebrate Saturday as the grassroots group turned 15 and hosted a party that brought out about 40 people for song and speeches.
"I applaud your mission to serve," guest speaker Sen. Janette Millin Young said.
Before the ceremony on the Institute's lawn, President Alvis Christian Sr. gave Young the grand tour of the building, its gardens and a bit of its history.
The building started out as the Horace Mann School, named for the noted education reformer and member of the U.S. House of Representatives. After the school closed in the 1960s, it fell into disrepair and served as shelter for the area's free roaming goats and other animals.
George January, who turns 90 this week, took his turn at the microphone to talk about how he worked on the school.
"When I was a young man just come back from the CC camp, I got a job for the government to take care of schools," he said, referring to the Civilian Conservation Corps.
Starting in 1996, Christian and a small cadre of volunteers from John's Folly, Mandahl and Hard Labor mucked out the building's rooms, held numerous food sales to raise money for the rehabilitation and finally convinced the Legislature to appropriate some money for the needed work.
According to Christian, the Legislature came up with $50,000 and the volunteers raised the rest of the $120,000 tab to make the building usable.
Today, the island's only Montessori School occupies the school, but the Learning Institute plans its usual extensive summer program that includes a youth program, English as a Second Language for Adults and perhaps a GED program, Christian said.
The summer program includes a trip to Puerto Rico. Last year, Irah Christian, 19, made the trip. In her remarks, she spoke about some of the highlights – Church's Chicken, Wendy's and the purchase of 20 pairs of earrings were among them. She then got serious and talked about Puerto Rico's vast cultural offerings.
"Puerto Rico is the plain donut and the rich culture of each city is the frosting," she said.
Beulah Dalmida Smith, who served as the master of ceremonies, said that the Institute's vision is to be a leading community resource that preserves the wisdom of traditional life.
Those at the ceremony also heard Whitney Smith, 17, recite Emily Bronte's "No Coward Soul is Mine," a musical rendition by the Calvary Baptist Church Choir and a flute performance of "Amazing Grace" by Henry Powell.