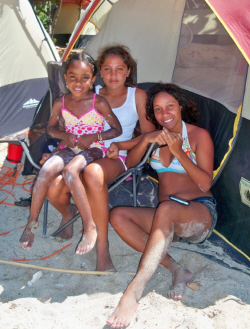 Children camping out for Easter on St. Croix found being out in nature is more fun than playing electronic games. Youngsters at Cramer's Park were playing baseball and football, skateboarding, swimming, hiking, running races, and fishing.
"This gives us a connection with nature," said Carl Michael James, age 13. "We couldn't bring electronic games but this has been more fun than playing Nintendo." He was doing the Rip Stick, similar to a skateboard, with a group of boys at the annual unity retreat organized by Sen. Terrence "Positive" Nelson.
"I love swimming and fishing best of all," said Zion James, 11. "The water balloon fights were a lot of fun too." Malique Green, age 15, said he liked the foot races on the beach and the hike up Goat Hill. "The best part is no school and no homework," Green added.
Saturday the shoreline at Cramer's was covered with tents, folding chairs, hammocks, coolers, clotheslines, and one site even had a television. People of all ages were enjoying the afternoon gathered under the permanent shelters or any shade they could find, be it screened canopies or sea grape trees.
The children were swimming under the watchful eyes of three Department of Parks and Recreation lifeguards. Lifeguard Rueben Prince said everything was going well. "We are blessed with a good group of people with good behavior," Prince said. The lifeguards are on duty from 9 a.m. to 5 p.m. daily during the campout.
At Southgate Nature Preserve, the road was rough after a long rain shower at 5 a.m., but plenty of vehicles still manged to get in and close to the shore.
Victoria Ventura and Merari Sanes, in their seventh year camping at the preserve, said they were up at 7 a.m. getting wet clothes on the line to dry. It turned into a hot sunny day so the clothes dried in no time.
"We got a little wet but it was worth it," Ventura said. "Our first night it was really cold, last night was perfect."
The ladies said it was a Rivera, Sanes and Ventura family gathering with around 45 people getting together each year.