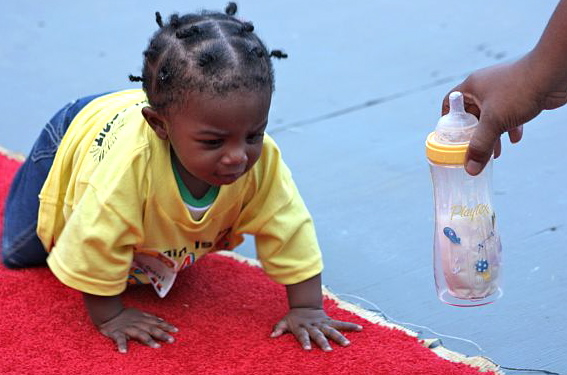 Though storm clouds started to gather Sunday afternoon the rain held back, allowing families from across the island to fill the field at Lionel Roberts Stadium for the annual Toddlers Derby and Traditional Games.
As usual on game day, hundreds of iridescent bubbles filled the air as pint-sized participants waved everything from bubble wands to plastic guns that shot them out by the dozen. Silly String and cotton candy were also passed from hand to hand as the children ran circles around moms and dads camped out in portable chairs for the event.
Derby spectators got a chuckle early on as the first set of crawlers lounged around the starting line instead of moving toward their parents on the side of the stage. While some chose to socialize, others only began to move when toys — including blowups of Dora the Explorer and Spongebob Squarepants — were dangled in front of their faces.
Winner Cameron Pascal had the ultimate motivation — his bottle, filled with milk held at the finish line by mom Kimberly Hughes.
"He really responds to his bottle," Hughes joked of her seven-month-old son, who she said had been crawling for about a month.
The big Dora doll was what got seven-month-old Epyffani Stevens moving in the second race, as she sped down the carpet to mom Chantel Michael.
"Dora, Digger, Backyardigans — as long as it's anything from Nick Jr., she'll come to it," Michael said.
Twenty races later, with everyone from toddlers to six-year-old runners competing on stage, it was time for the Traditional Games, which were hosted by radio personality Irvin "Brownie" Brown. Crowding the stage, children from all ages learned the proper way of spinning a top, throwing jacks, and hooking a tire to race.
Brown said new this year was the ring toss, which was also followed by spoon, potato sack and wheelbarrow races.