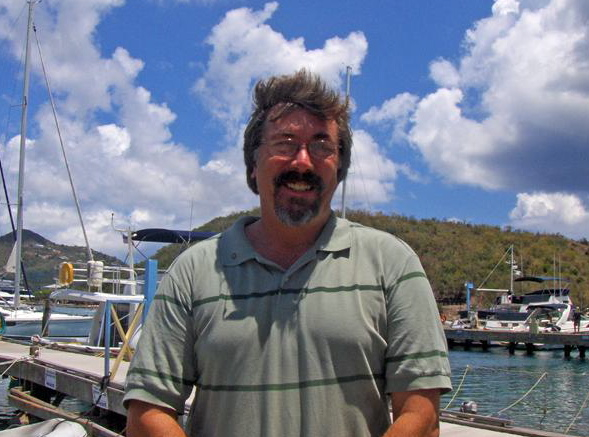 The V.I. Charter Yacht League has become a professional organization respected throughout the Caribbean and the charter industry worldwide, but it wasn't always that way.
Erik Ackerson has poured his considerable energy and passion into invigorating the league since he took the helm as executive director in 2008.
The history of the VICYL, which began in 1969, reflects many of the changes that have come to St. Thomas over the past 40 or so years, from the early days at the venerable watering hole Fearless Fred's on the rickety old Yacht Haven dock to its current fancy digs at Yacht Haven Grande.
Ackerson is happy to talk about the changes. He is, in fact, happy to talk about anything to do with the water surrounding us – sailing on it, fishing in it, educating local youngsters to pursue a career in the marine industry – and, of course, the VICL which is his passion: "The shining star of the Caribbean."
Originally from Kansas City, Ackerson was a professional chef and food service manager. He came to St. Thomas in 1998 to take over management of Quality Foods Corp. until it was sold in 2007.
"At that time," Ackerson says, "I took some time off to enjoy the islands when Betsy (of Betsy's Bar) mentioned the league was looking for someone."
It turned out the job and the man were a natural fit.
With Ackerson's hand firmly at the helm, the league has grown from 40 boats when he took over to 175 today. He has a staff of 10, he says. That is, 10 notebooks he keeps on his desk, each for a different project.
"I'm the staff," he says with a laugh. Ackerson is a big guy, highly focused and blessed with good humor. These are traits he puts to good use.
The office was above Scotty's Dive Shop at Gregory East when Ackerson first came aboard.
"When I saw the office, I said we'd move in one year, and in one year and one day, we were in new offices; Broadway! Yacht Haven Grand."
Ackerson doesn't fool around.
"I keep database of at least 1,000 yachts," he says. "I keep track and I'll introduce myself when they're here – at the grocery store, meetings, restaurants. I'll tell them about chartering out of the V.I."
Ackerson beefed up the member benefits from what was basically only insurance, to now include promotion to a worldwide network of charter brokers, year-around aggressive joint marketing efforts, representation in the Department of Tourism, the St. Thomas and St. John Chamber of Commerce, the V.I. Hotel and Tourism Association, where Ackerson is a board member; Rotary St. Thomas, the Navy League, advice on how to establish and promote individual businesses and discounts at local businesses and most major marinas.
"What they get," Ackerson says, "is me. Boat captains don't have the time to attend these meetings, but their voice must be heard in the community. I attend government meetings – the Port Authority and Department of Planning and Natural Resources, and the Senate when it concerns marine issues."
Membership requirements are strict.
"If we have captains operating off the radar, with no business license, it's a black eye for the industry," he says. "We have to keep as tight a ship as possible, but the Department of Licensing and Consumer Affairs doesn't have the staff to police all the yachts," he says.
"People think the yachts are the big ones you see tied up at the marinas, and that's not the case. Most of the boats are closer to 75 feet, about half day-sailors and half term charters."
One thing that grinds at Ackerson is the lack of marine opportunities for local youngsters, a situation often lamented by community leaders, but never acted on.
"There are so many careers in the marine industry," he says. "Mechanics, electronics, chefs, crews, it's all here if we had the education."
Ackerson has spoken to Sen. Shawn-Michael Malone about a program he has in mind – "Sail globally, hire locally."
"We hope to get something going for this summer," he says. "Just getting the kids to crew on boats will be a start."
Ackerson is excited about the 2011 St. Thomas Fall Charter Yacht Show Nov. 4-6 at Yacht Haven Grande.
"We've had 50 boats the last two years, and this year we expect to double that," he says. Looking like he just swallowed the canary, he adds with a wide grin, "This year we're in front of the BVI show, and that's important to get to the brokers first."
Information and applications for the show are on the league website.
Ackerson also hosts a weekly one-hour radio show, "On the Water" which airs at 3 p.m. Wednesday and 8 a.m. Saturday on WVWI. On the show he interviews everyone imaginable, from scientists to politicians to school kids, as long as it's about the marine industry.
Grace Bodle, who sailed into St. Thomas with her husband Bill in 1967 on their 72-foot schooner Nordlys, recently reminded Ackerson about the early days.
"At that time," Bodle wrote, "Yacht Haven Marina consisted of a couple of docks somehow tied to an old sunken barge, which someone had then added decking and a couple of little offices. Even though most of that early group of sailors had cast off the rules and regulations of life back home, some self-made captains succumbed to an inherent need to set up a new structure, and thus the birth of the Virgin Islands Charter Boat League."
She wrote, "Capt. Bill Beers of the yacht 'True Love,' announced the group's first race standing on a table at Fearless Fred's, saying the race was for fun, and sailors shouldn't get overly competitive." Oh?