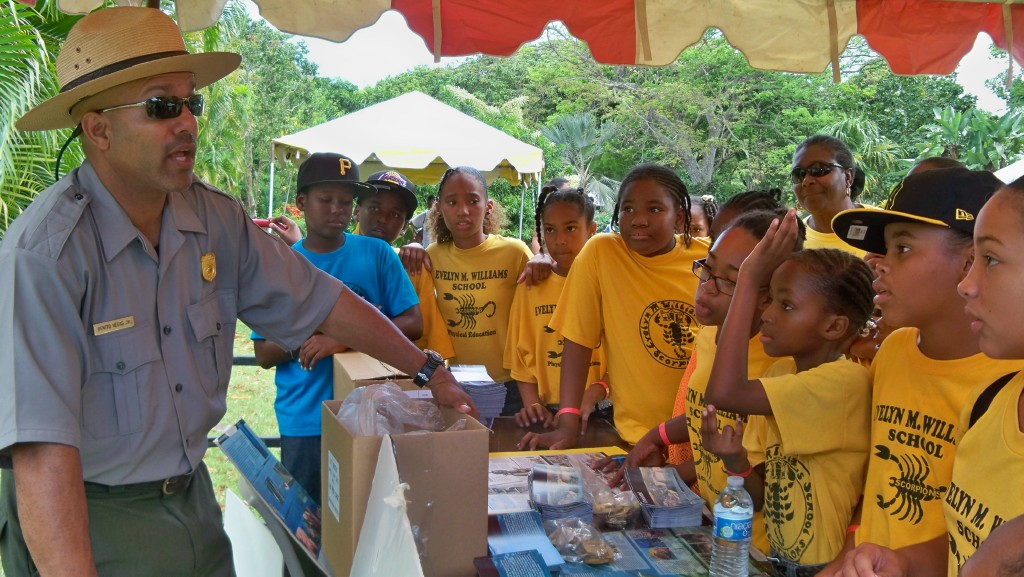 During this week's "Ocean Connections" EcoFair, students got out of their classrooms and headed to the lush gardens at St. George Village Botanical Garden, where they hiked, sang songs, planted seeds, and learned how to take care of their island home.
St. Croix Environmental Association (SEA) and V.I. Waste Management Authority (WMA) sponsored the 18th annual fair for public and private school students in celebration of Earth Day. It wasn't held on Earth Day because of the traditional Easter week camping on St. Croix.
Fair organizer Lynnea Roberts said as a science teacher she realizes how important it is to get the students out of the classroom to see science as part of their daily lives. Roberts, who is also environmental education coordinator at SEA, added that hands-on activities are the best way to get students excited about learning.
"When we get the kids excited about the environment, we are hoping it gets the whole community excited," Roberts said.
She said 13 schools registered and more than 870 students in grades three through six attended. Attendance was not as she expected because yesterday 200 students didn't show up. She suspects it was due to rain.
Around 20 organizations, businesses, and agencies set up educational displays and dioramas in tents on the lawn and in the Great House.
Olasee Davis of UVI's Cooperative Extension Office, ecological tour guide Ras Lumumba and Veronica Gordon from the Department of Agriculture led students on nature hikes. Davis told the children about some of the plants in the garden and their uses. He also gave the children a condensed talk on the history of St. Croix beginning with the Taino Indians.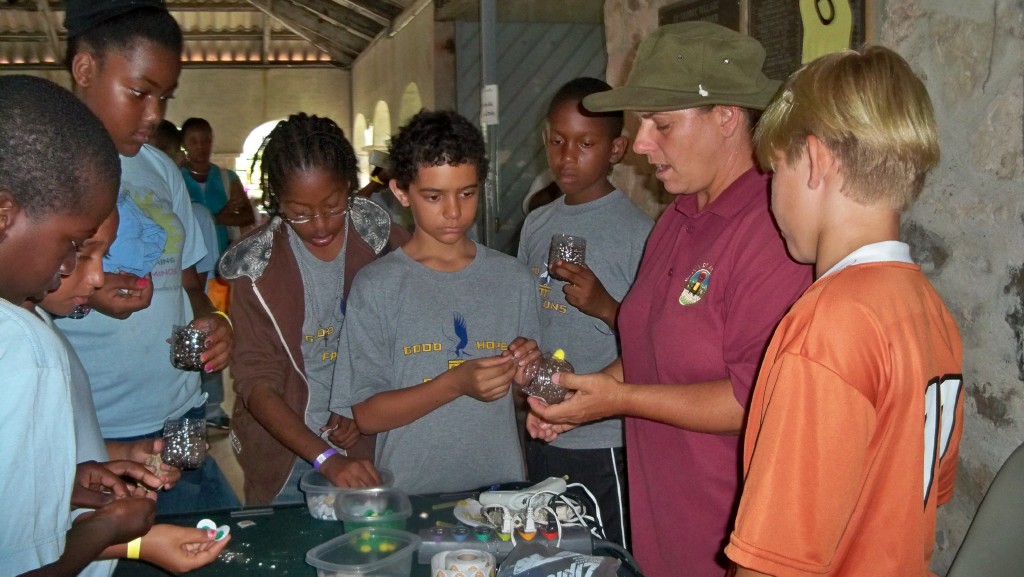 Charlie Shultz, research analyst at the University of the Virgin Islands Agricultural Experiment Station Aquaculture Program, had a tank of tilapia and a portable bed of hydroponically raised produce. He explained to the students how growing 20,000 pounds of tilapia in tanks at UVI relieves pressure on our oceans producing that amount.
Students got to use binoculars for bird watching in a "Go Wild, Go Birding" excursion around the garden led by Carol Cramer-Burke, program director at SEA. Marilyn Chakroff, from the Department of Agriculture's forestry department, was showing students how to identify trees.
DPNR's East End Marine Park EcoVan mobile educational unit was on site, too. Marine Park Ranger John Farchette said his focus at the fair was spreading the word about keeping the island litter free and how litter affects wildlife. He had graphic photos of dead birds showing their stomachs full of plastic and shiny things.
"We may fail to pick up bottle caps and trash," Farchette said. "But birds never fail to pick up caps and plastics. It fills up their stomach, and they starve to death."
Jacqueline Kowolski, director of horticulture at the Department of Agriculture, got the students into recycling by having them plant bean seeds in decorated pots they made from used water bottles.
The V.I. Energy Office had a table with information on solar energy. Jan Hart, retired teacher, sang and played guitar leading the children in recycling songs.
Waste Management also sponsored the fourth annual "Litter Stomp" with kids chanting anti-litter slogans, carrying signs and stomping to the beat of the horn and drum section of the St. Croix Educational Complex Marching Barracudas band.
The costumed, furry, brown "litter critter" led the mile march of a couple hundred students down Queen Mary Highway from the WMA office in Williams Delight to the garden.
May Adams Cornwall, WMA executive director, stomped right along with the students. She said the litter stomp was a great way for students to become enthusiastic about the environment and not littering. "I hope they tell their parents what they learned or even start anti-litter projects at their schools."
"The best part of the fair was the singing," said Tamia Turner, a fifth-grader at Pearl B. Larsen Elementary School. "Don't litter or Mother Nature will be bitter," she sang.
Some of the public schools that took part were Evelyn Williams, Lew Muckle, Larsen, and Alexander Henderson Elementary Schools. The private schools taking part were AZ Academy, Country Day School, Good Hope School and more.